Since IBM introduced its concept in the IT business landscape, enterprise design thinking has been making huge waves and has become a synonym for innovation. We have thoroughly explored the benefits and inner workings of traditional design thinking, but as with all great ideas and concepts, new and boundary-pushing versions tend to crop up with time.
Enterprise design thinking takes elements from experience design and experience management to new levels.
We'll look at the definition of enterprise design thinking, its principles, and critical elements to keep in mind when applying its methodology to IT and ITSM solutions in many business areas. Without further ado, let's see why enterprise design thinking has become such a pivotal approach to design thinking.
What is IBM Enterprise Design Thinking?
In simple terms, enterprise design thinking is a variant of design thinking initially developed and used at IBM. Its goal is to use the tenets of design thinking as a base, but modify them to meet the needs of a modern enterprise.
The result is a design methodology that prioritizes speed and scalability, as well as social innovation and brand differentiation.
Many businesses use this approach to help teams get together and encourage innovative practices in various company sectors, especially software engineering. It's important to note that, like traditional design thinking, enterprise thinking is an iterative process with particular attention to enterprise-level projects and user outcomes at the center of its scope.
There are three principles rooted in enterprise design thinking and its application. They are focused on user experience, user outcomes, restless reinvention, and diverse teams. Additionally, three key concepts include hills, playback, and sponsor users. When applied, organizations can design and evaluate ideas in a more streamlined fashion, thus boosting efficiency and leading to better human-centered and enterprise-driven results.
The 3 principles of enterprise design thinking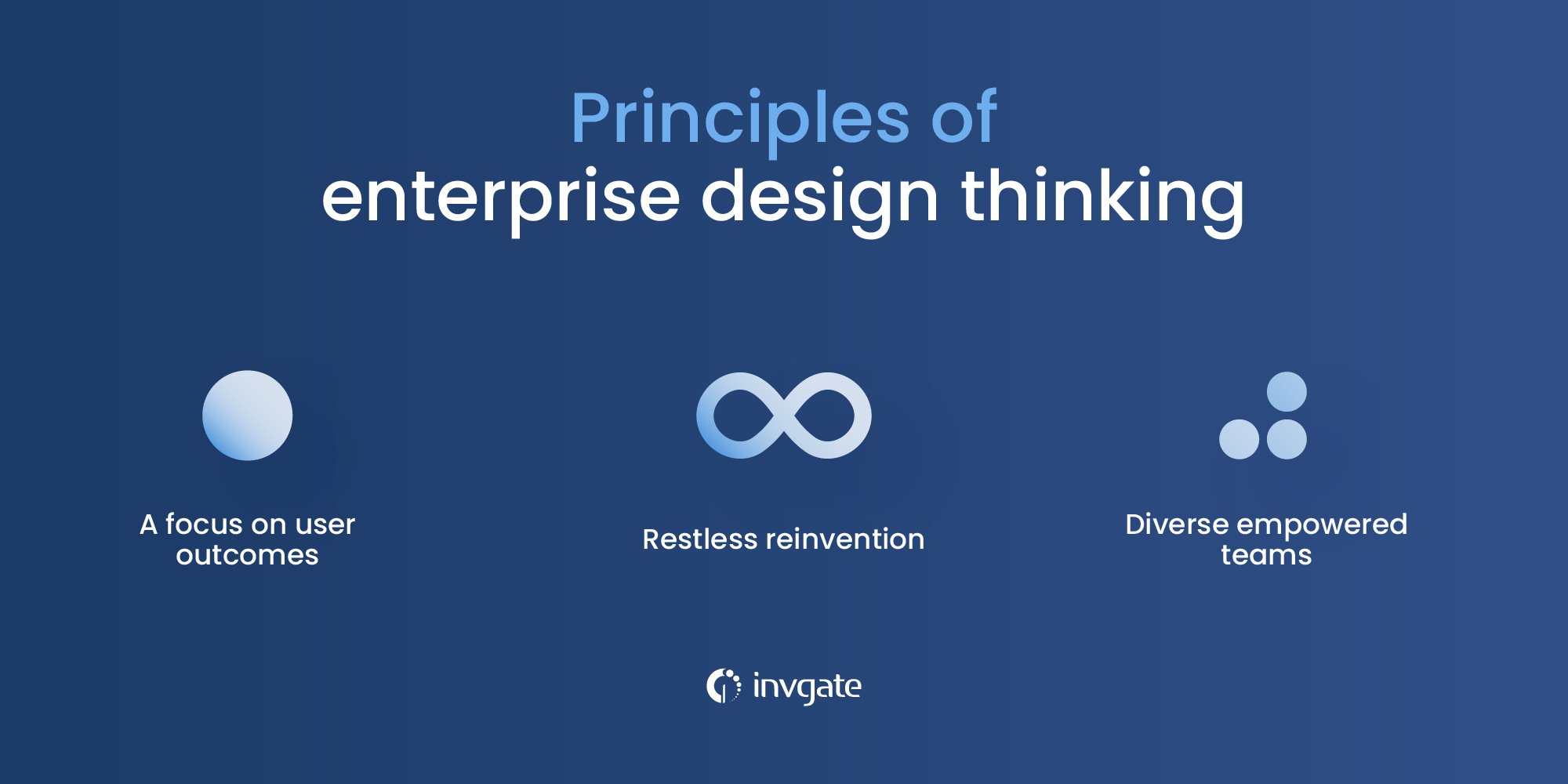 The 3 design thinking principles mentioned above provide the groundwork for creating solutions that can satisfy users' needs and meet their expectations.
1. A focus on user outcomes
Like regular design thinking, enterprise design thinking focuses on users' needs first and foremost. As a result, it creates user personas to define who the users are, the issues and challenges they face, and how to improve their experiences. Businesses can focus on users' problems that lead to those issues.
The objective is to shift the conversation from features and functions to focusing on users and their outcomes.
2. Restless reinvention
Just as its name implies, restless reinvention is a design thinking practice concerned with creating prototypes quickly to validate ideas and see how they work in a testing environment. Moreover, this also means rapidly developing and improving users' products, gathering information from surveys and user feedback, learning from it, and carrying out course corrections when necessary.
To do this, ideas need to be as visual as possible. So, sketches, static designs, and other types of low-fidelity prototypes or high-fidelity prototypes (such as functional apps) need to be constantly developed and put to the test. Above all, users should be able to get the gist of the idea and provide feedback at every stage of the prototyping process.
3. Diverse empowered teams
Diversity is a big deal in enterprise design thinking because diverse teams can see ideas from different angles. If their skills are considered during brainstorming, the likelihood of finding breakthrough solutions increases exponentially. Every single aspect that makes traditional design thinking great is improved when diverse people and diverse teams work towards the same goal.
The loop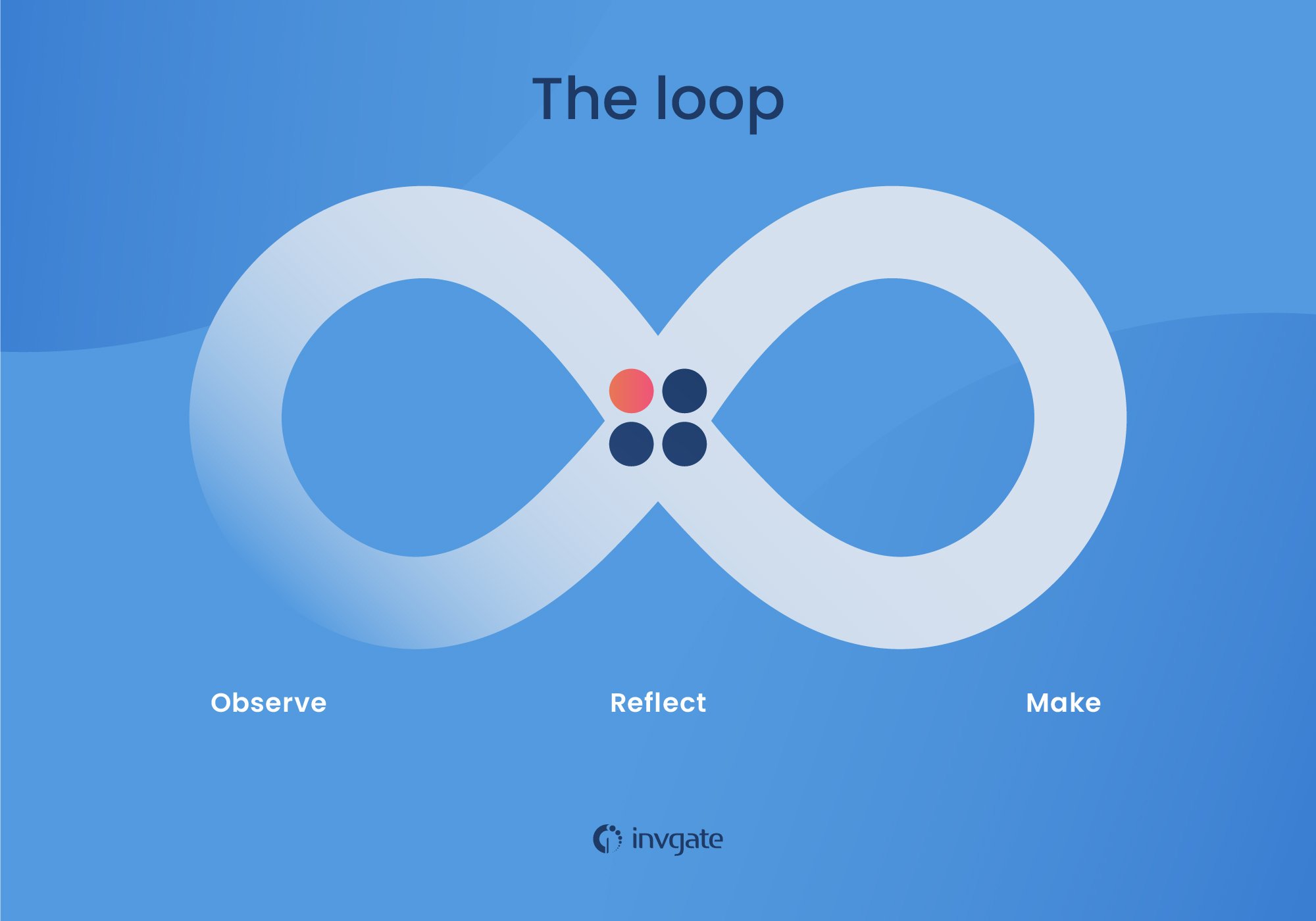 All the stages mentioned above are part of the loop, which is a never-ending cycle of observing, reflecting, and creating. By acknowledging it, you get inspired to comprehend the present and imagine the future of your design. It allows us to build on our successes while also learning from failures, meaning that the loop keeps you moving forward in the face of uncertainty.
The keys to enterprise design thinking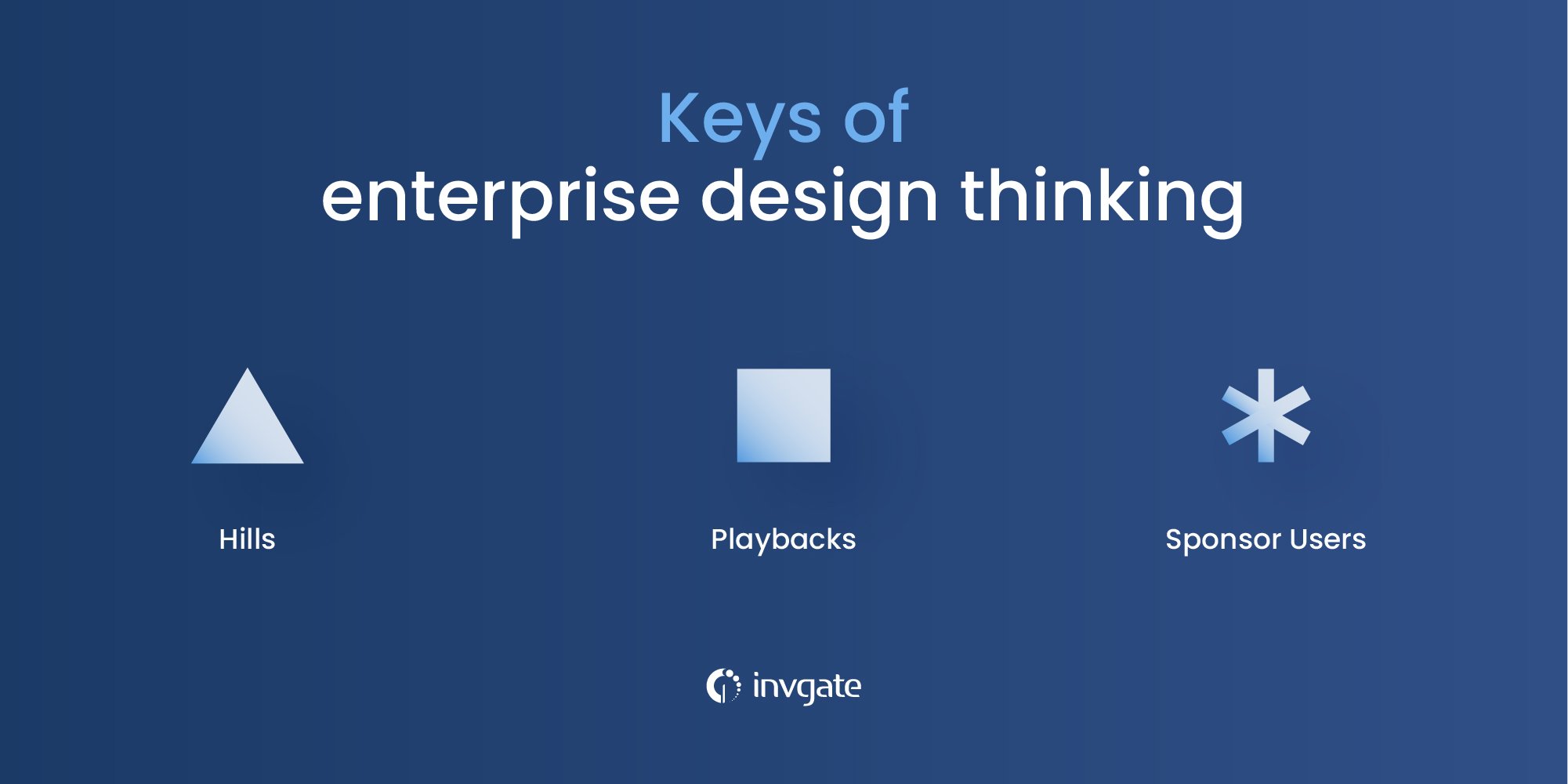 Keys are what make ideas become tangible results, and they serve as an aligning agent to keep all enterprise teams connected and coordinated. The three keys in question go as follows.
Hills
The concept of Hills was created as a new business language that helps companies align around user-centric results instead of focusing on features and their outcomes. Customer needs and wants are at the center of this language, and each hill represents an ideal outcome for users. Similar to syntax analysis, the process is broken down into three crucial parts.
There's the "who," the "what," and "wow." Who refers to who the user will be, what the user will be able to do, and wow refers to that "wow-factor" that will set the company apart from others. Statements in this language orbit around these three parts and ensure an idea benefits users.
Think of hills as literally that, a way of conceiving objectives, hills that companies are looking to climb.
Playbacks
Playbacks are essentially instances of feedback that are being delivered constantly. Enterprise design thinkers organize user-centric sessions where they play back milestones and conquered goals to align teams and employees around high-value scenarios that show the value and impact of their offering. Early and later playbacks are necessary to ensure teams achieve a hill's specific user objectives, making the design process more agile.
Sponsor users
Sponsor users are people who are chosen from an actual or intended user group. In enterprise design thinking, sponsor users serve as a blank canvas that allows teams to design products and services for a company's end users and target audiences. An exemplary implementation of sponsor users involves working with them from beginning to end of an enterprise design thinking process iteration, and their feedback provides direct and highly valuable insight.
What makes enterprise design thinking different?
The deciding factor that makes enterprise design thinking different from its traditional counterparts (i.e., design sprint) is its focus on user-centric solutions at an enterprise level. Though it might sound reiterative, IBM's enterprise design thinking framework aims to cater to enterprise-level projects' scale and complexity.
Moreover, this methodology helps big and often dispersed teams join forces and cooperate on highly complex projects without losing sight of the all-important user outcomes.
As IBM design thinking's official statement reads:
"Enterprise Design Thinking is a powerful approach to innovation and brand differentiation focused on creating experiences that delight customers."
Key takeaways
The main takeaway from enterprise design thinking is that its framework serves as an excellent base for companies who have already gone through their early stages of development and might be struggling with teething issues or trying to expand their enterprise architecture. Enterprise design thinking and its core principles offer insight into managing teams so that breakthroughs can be achieved quickly and efficiently.
IBM's key concepts of hills, playbacks, and sponsor users also provide businesses with the adequate tools to align a company's human resources within this framework and help them not only design potentially groundbreaking products and experiences but also make those employees and teams feel like they've been instrumental to the realization and tangibility of their ideas.