Looking for alternatives for ChatGPT, we stumbled upon on of the most promising tools in the market right now: ChatSonic.
ChatSonic is one of the latest tools released in the market following the ChatGPT craze. Being a mix of the best of Midjourney for Visual AI, ChatGPT for knowledge, and Jasper for AI writing, this chatbot and natural language processing (NLP) platform can understand and respond to any question. It is also capable of writing content like blog posts, emails, and poems with a simple conversation.
You can start testing the product with its free trial of 2500 words and 25 question/request per day.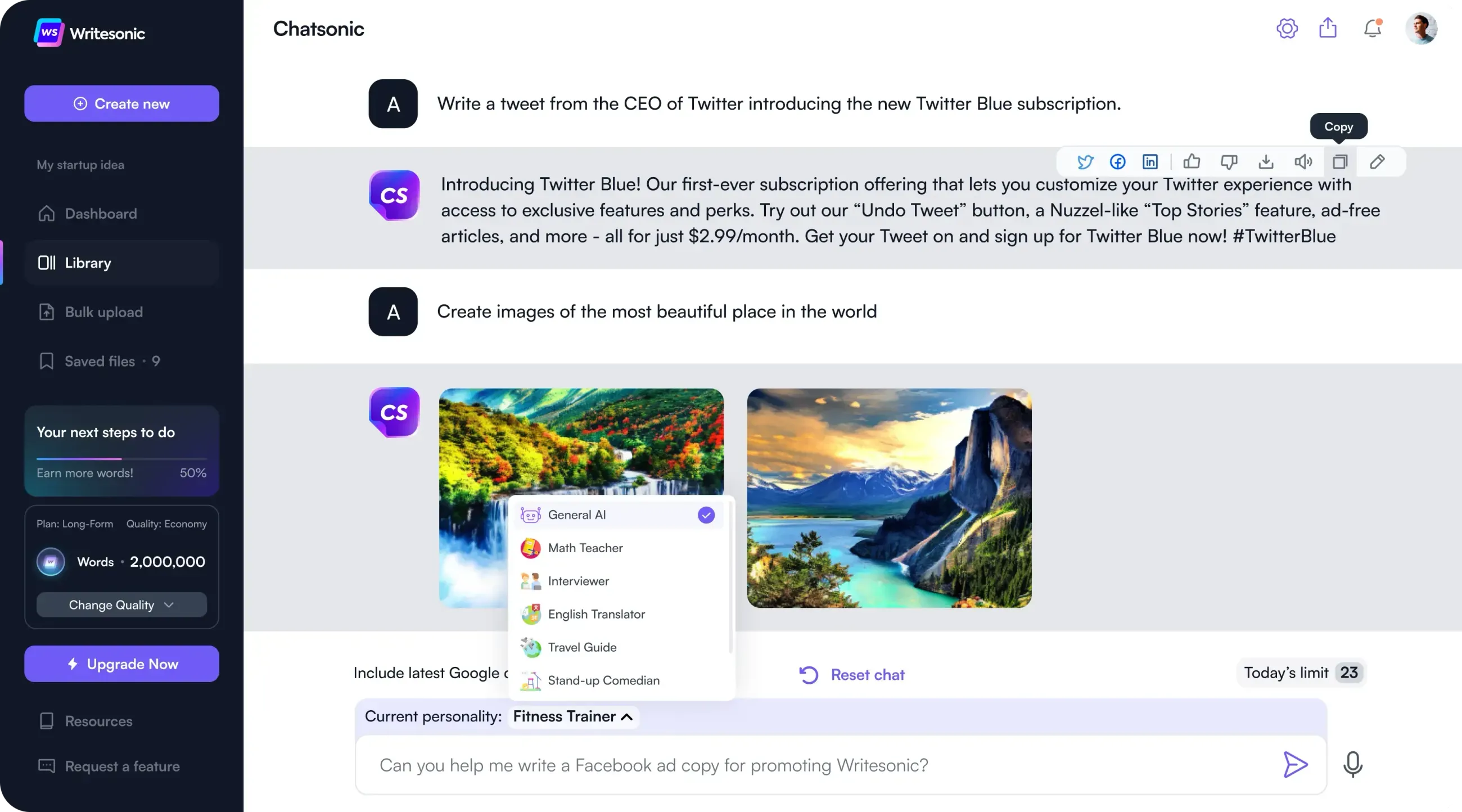 ChatSonic use cases
The platform has a similar look (but more modern) as ChatGPT, with a chat prompt where you can ask questions or make requests, with some suggested use cases that are shown on the first screen, including:
Write factual content

on any topic, including recent events - Even though the company assures this capability, when we asked to write about the latest World Cup final, it gave a description of the 2018 match between France versus Croatia.



Create a digital artwork in HD

- Similar to Midjourney, it requires to practice and test prompts to get high quality and usable images.



Create written content for specific uses

- We were impressed with the amount of pre-configured options provided by ChatSonic. Utilizing

WriteSonic's engine

, it provides customers with expeditious production of content such as LinkedIn and Google text ads, which is beneficial for the marketing personnel. Besides that, it also has features useful for those in IT or providing customer support

, such as generating Quora answers and listing pros and cons of a subject.
Should you buy a ChatSonic license?
It's safe to say that this kind of tool will be widely used by most of people creating content or answering questions as part of their daily job. Thus, the job's main focus will be likely to shift from trying to find the right words to say something or using Google to find the information to build a piece to finding ways to be more creative and effective with our communication.
In this context, ChatSonic is an excellent first mover in this industry of AI content creators, and probably one of the leading contenders of of the GPT3 revolution for content creation.
5 ChatSonic alternatives
As mentioned before, ChatSonic is a bit of a mix of several solutions that are currently live or to be released. Here are some other alternatives you can check on your discovery process:
| | |
| --- | --- |
| Jasper | Similar to WriteSonic, Jasper is one the first AI content tools. It's a good option to try if you are mainly interested on creating written content. Price starts at $52/month. |
| Chat OpenAI (ChatGPT) | This is the tool that accelerated the AI revolution. It's not only great for writing, but can also create responses to every knowledge that exists on the web. It's currently on a beta stage and free of charge. |
| Rationale | Powered by GPT-AI, Rationale gives you pros and cons of any decision in just 5 seconds. |
| Perplexity | Perplexity is a search engine that gives you the right answer to anything, with sources and related topics. |
Is ChatSonic free?
Chatsonic is the ChatGPT-like input interface of WriteSonic. So, actually Writesonic is its main product.
When writing this article, WriteSonic offered 3 types of plans:
Plan
Features
Cost
Free Trial

Limit of 25,000 words.
Chatsonic interface.
100+ AI templates.
Zapier integration.

$0
Long-form

Starting with a plan of 190,000 words and 1 user.
Includes Complete Article Rewriter, API Access, and SEO Surfer integration.

Starting at $12.67/month
Custom

Oriented to power an extensive team of writers.

Quote
Final thoughts
ChatGPT took the world by storm, and helped several other AI-powered content writing tools to gain visibility. And ChatSonic is certainly one of them.
When compared to OpenAI's tool, it has a more modern UX, offers the possibility to create digital artwork, and might be more accurate with facts and recent events. Furthermore, it offers pre-built templates to speed up writing processes.
If you're wondering whether it would be a good addition to your business (perhaps to help you out with Marketing or Customer Service tasks), the good news is that you can test this one for free, and work your way up to the plan that best suits you aftwewards.