Every 4 years, the World Cup poses the same challenge to companies and organizations: how to balance the interest in the most important event of the year with the needs of work itself? During Russia 2018, the World Cup entered the offices with the proliferation of streaming services, allowing everyone to access the matches anywhere, either from their mobile devices or work computers.
To understand the impact of this new scenario, we analyzed the overlapping of match schedules with working hours and found that 37.5% of the total hours the World Cup will last correspond to business hours in the UK, and the number ascends to 48.4% in the US.
Take a look at the impact this World Cup will have on productivity in each of the participating countries and what companies can do to take advantage of this enthusiasm.
The hybrid work model in 2022
Though remote work is nothing new, the Covid pandemic extended and intensified it. 2020 transformed how companies operated in multiple ways (and resulted in what is known as "The future of work").
While some of these companies returned to face-to-face, many others embraced virtuality or embraced a hybrid work model. In fact, 30% of the UK workforce is working remotely at least once a week in 2022. And in the United States, 26% of US employees now work remotely.
The adoption of the hybrid or remote model forced companies to create new communication channels, adapt new virtual tools to facilitate the performance of tasks, and, of course, make schedules and traditional work models more flexible. In this context, an event such as the World Cup can turn into a source of distraction that companies cannot fully avoid.
The World Cup and the home-office: ranking of the most affected countries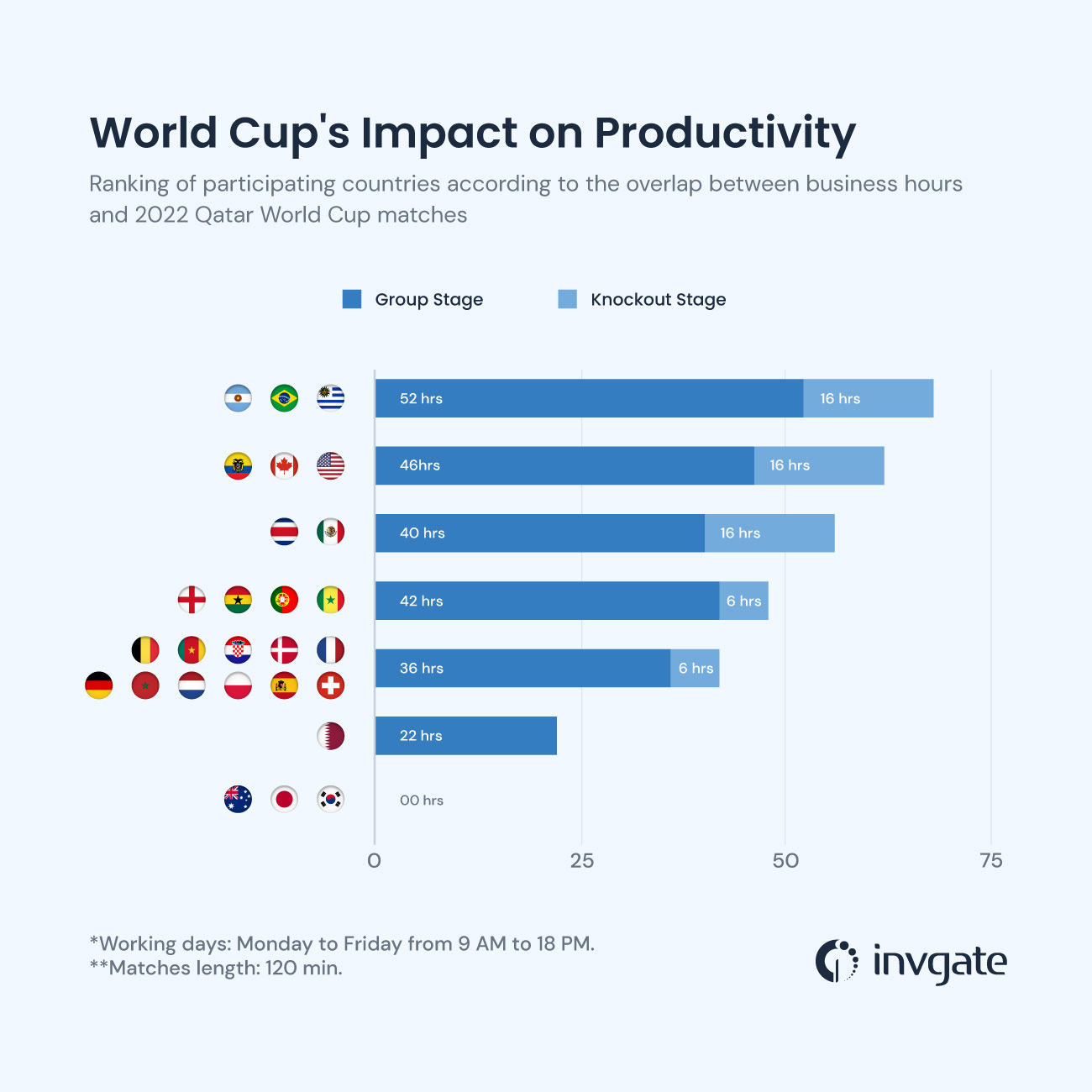 According to our analysis, of the 128 total hours taken up by the World Cup matches, 73.4% (94 hours) will be during working days (Monday to Friday from 9 AM to 6 PM). However, this will affect countries differently due to time zones.
When we took a closer look at this data with this in mind, we were able to build a ranking of countries most affected in working hours by the World Cup.
| | |
| --- | --- |
| Countries | Working hours affected by the World Cup |
| Argentina, Brazil, and Uruguay | 68 |
| Ecuador, US, and Canada | 62 |
| Mexico and Costa Rica | 56 |
| Portugal, United Kingdom, Senegal, and Ghana | 48 |
| Spain, Netherlands, Germany, Poland, Croatia, Denmark, France, Morocco, Cameroon, Switzerland, and Belgium | 42 |
| Qatar | 22 |
| South Korea, Japan, and Australia | 0 |
To perform the analysis, we took into account standard working hours (Monday to Friday from 9 AM to 6 PM) and the conventional length of the matches (120 minutes, consisting of 90 minutes of play, 15 minutes of rest, and 15 minutes of overtime and additional time).
Then, we selected and categorized each country in the sample by grouping them according to their respective Greenwich Mean Time (GMT). Finally, we determined the overlap between matches and the number of working hours in which they coincide.
How to take advantage of the enthusiasm for the World Cup?
If you are among the countries whose productivity will be most affected by World Cup matches, you may already be thinking about how to reverse this situation.
But let's be honest, you won't be able to fully change it. The World Cup only happens once every four years and is one of the most important sporting events on the planet, so you can't fight it. What you can do is make certain decisions to minimize its impact.
Here are some ideas to decrease the World Cup's impact on productivity:
Soccer is a collective sport, both on and off the field. Take advantage of this to encourage attendance at the offices (especially if your company has a hybrid model) by offering a cozy place to watch the games that people can't resist (make sure to include decorations, food, and beverages).


This is also a competitive sport, so you can use a bit of gamification to increase employee engagement by creating contests and competitions.


Finally, as a leader, you can choose to avoid scheduling activities during matches. While it may seem counterintuitive, you'll just be acknowledging what will happen one way or another, but this way you use it to your advantage.
Final thoughts
Technological improvements and the changes they cause alter all conventional social practices. And the World Cup is no exception. First with the advent of streaming and now with remote work, this sporting event increases its ability to distract us from our routine (and our tasks).
Given the time difference with Qatar, the countries whose productivity will be most affected are Argentina, Brazil, and Uruguay, followed by Ecuador, the United States, and Canada. On the contrary, those that will not suffer any alteration during their working hours are South Korea, Japan, and Australia.
With this in mind, you are still in time to evaluate the best alternatives so that the meetings affect the projects you are working on to a lesser extent, consider the SLAs defined for your help desk, too. But remember that you won't be able to avoid it completely. After all, the World Cup happens once every four years.