It seems like the IT industry is paying more holistic attention to experience management. Needless to say, leadership in the information technology sector is all about making teams reach their full potential and encouraging customer loyalty. Yet, in the past, we've failed to create direct links between employees and customers as if there was no correlation.
But now, the total experience strategy is emerging beyond potentiality and loyalty. Its objective is to also create customer advocacy and employee engagement.
Jason Wischer is a proponent of these change paradigms. He was a guest on the 12th episode of our podcast, Ticket Volume. Wischer is an advisor and consultant at KANINI with a passion for customer experience. Before becoming a freelance consultant, he worked at Crossfuze, Batteries Plus Bulbs, Thomson Reuters, and HDI.


He explained the way to do this is by improving the shared experiences of all actors. Wischer wants everyone to question how aware are IT employees of their impact on customers since some workers like tech developers or those with technical jobs, are far away from interacting with them.
"I have to educate my team when working with people that are kind of further away from the customer, what the impact is on their work, and it does directly have an impact on the customer experience."

- Jason Wischer, advisor and consultant at KANINI, on Ticket Volume podcast.
Although there is no adequately defined way to measure that gap yet, it is definitely a call to action for team leaders to "connect the dots between these operational roles," our host Matt Beran adds, so they can learn how to take care of their employees to better the customer experience.
As an IT leader, the total experience (TX) framework can help you create a more effective ESM that meets your needs. This article delves into Wischer's insightful ideas and will explain what TX is, why it's relevant for your organization, and how it can help you with your ESM efforts.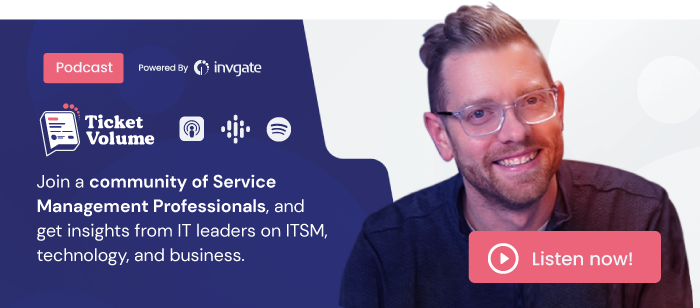 What is the total experience (TX) framework?
The total experience (TX) framework is a model for understanding customer experience. It's a customer-centered approach that helps companies understand the customers' needs, expectations, and experiences and then align internal resources and activities to meet those needs and expectations at every touchpoint.
The framework explains the customer journey through three main components:
Customer experience (CX) explores how customers interact with and experience your brand across channels and touchpoints, from advertising and digital experiences to in-store service and experiences. User experience (UX) explores all the environments and conditions that affect, and are affected by, the customer experience. Employee experience (EX) explores how employees are trained, supported, and developed to provide excellent customer experiences.
This framework is a critical component of a successful customer journey and employee experience. Hence, whether you are paying attention or not, focus on both experiences as they are related.
Here is a graph that they discussed and which shows this relationship.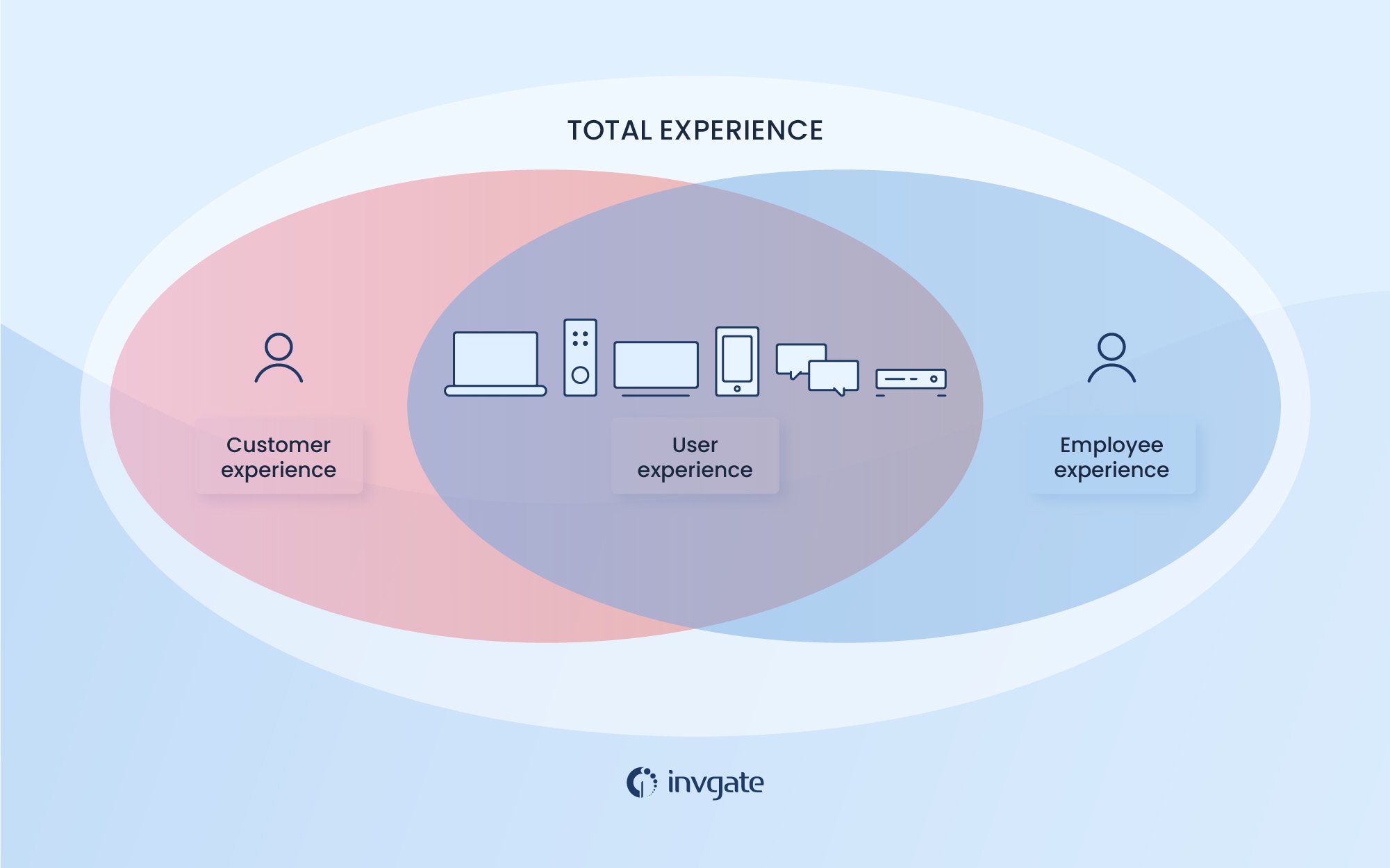 The total experience is about making purple
In hindsight, out of all these experiences, IT leaders tend to overlook what is to their right hand, their employee's experience. And because of that, Wischer invites all leaders to consider these principles:
By taking care of your employees, you are taking care of your customers.
The next level of success for you will be your team's success.
Bring diversity to your team.
And last but not least, the principle of making purple:
Combine the two perspectives (employee and customer).
"Just because my language and my perspective are blue. And maybe somebody I don't see eye to eye with is red (...), if I put too much on my own perspective, we're just gonna get dark blue. We're not gonna get purple."

- Jason Wischer, advisor and consultant at KANINI, on Ticket Volume podcast.
Maybe what you are missing is the key to improving everyone's experience.
The total experience impact on ESM
The total experience strategy helps you understand the customer journey and its context better. This in turn will improve your Enterprise Service Management (ESM) efforts. What we consider efforts from the ESM perspective are those related to:
Frequently growing employee expectations.
The necessity for enhanced business-function operations and outcomes.
Digital transformation enablement.
ITSM tool enhancements.
The boosted sales and marketing of ESM.
As a result, some ways the total experience strategy can help with your ESM goals:
An improved understanding of customer needs, expectations, and experiences.
Better alignment of internal resources and activities.
More informed decisions about how to improve the customer journey and their shared experiences with employees.
Better alignment of marketing, service, and operations activities.
Mutual employee engagement and customer satisfaction.
In closing
We could say a purple perspective that combines the total experience strategy and ESM is there to better internal collaboration and the success of the company.