Recently, we discussed how change management became change enablement with a new version of ITIL, and what that meant for its application. But did you know that ITIL itself also went through a bit of a change? It's a little more subtle, and if you look at its current usage you might not even realize that a change even happened, but it represents a conceptual shift that might mean big things for its guidelines moving forward.
Initially developed to standardize the IT services delivered to the UK government, the Information Technology Infrastructure Library has evolved into a global standard for ITSM (IT service management).
While ITIL used to stand for "IT Infrastructure Library", after ITILv3, the acronym was dropped and it was just called ITIL. What was the reason behind this change? Is there any difference in practice? Let's have a look.
What is ITIL?
If you want to get into this in-depth, check out our Definitive Guide to ITIL. For now, let's do a quick recap: ITIL is a library of best practices used to deliver IT services. It's used for IT service management and IT asset management and helps organizations get the best value from their IT activities. IT departments use ITIL for organizing and streamlining their activities. The framework ensures the best use of IT resources and delivery of quality IT services for an organization.
ITIL describes a standard for IT activities and ensures a minimum standard for IT services within an organization. It explains processes, procedures, checklists, and tasks which were initially prepared by collecting and analyzing industry best practices. ITIL provides a systematic approach for organizations to build their IT and align it with their business goals.
ITIL 4 has four dimensions: organizations and people, value streams and processes, information and technology, and partners and suppliers. This is a further evolution from the 4 Ps in ITIL 3; People, Products, Processes, Partners. The revision was to encourage how people perceived them, to see them as interconnected and intermingling aspects instead of isolated islands that influence IT service delivery.
Due to its widespread popularity, most software tools used by IT departments, such as service desk solutions, knowledge base software, IT asset management solutions, change management solutions, incident management solutions, etc are designed to work with ITIL guidelines.
Key ITIL concepts
ITIL was developed with these five key concepts in mind
Delivering maximum value to customers
Optimizing resources and capabilities
Offering services that are useful and reliable
Planning processes with specific goals in mind
Defining roles clearly for each task.
The framework help organizations and vendors handle service design, problem management, and deliver consistent and quality IT services.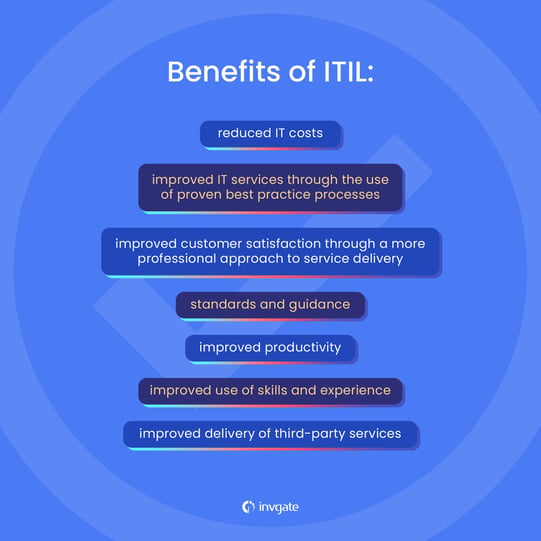 History of ITIL
The IT infrastructure library was initially formed as a set of recommendations by the UK government's Central Computing and Telecommunications Agency(CCTA). The agency was asked to come up with the recommendations as the government wasn't satisfied with the quality of IT service they were getting. The first version came out in the 1980s and was titled Government Information Technology Infrastructure Management.
While it was initially developed just for government agencies, the framework saw widespread adoption in the private sector as well. In 2000, Microsoft adopted ITIL for their Microsoft Operations Framework. In the same year, ITIL V2 was launched.
While the initial version was made of 30 volumes, by ITIL V3 launched in 2007, it was condensed into just 5 volumes. A refreshed version of ITIL V3, removing errors and inconsistencies, was launched in 2011.
The acronym "IT Infrastructure Library" was dropped with ITIL 3, and the official documents and references started to refer to it as simply... ITIL.
ITIL vs. IT Infrastructure Library: Why the change?
While many articles and references use ITIL and IT infrastructure library interchangeably, within the official documentation now refers to it simply as ITIL. The change was introduced with ITIL V3 and it reflected how the scope changed from V2 to V3.
ITIL V2 was all about carefully documented and detailed processes which if followed correctly, could help organizations deliver a minimum quality of service. ITIL V2 was about how the services were produced, how it was delivered, and the people who were using them.
V3 still included these processes, but it didn't revolve around them. Instead of a library of processes for IT service, it became more about services, and how organizations can continually improve them. With V3, ITIL became more about the lifecycle of services instead of processes.
The framework was designed around 5 phases or concepts; Service Strategy, Service Design, Service Transition, Service Operation, and Continual Service Improvement. Service strategy was about who to offer the service, while service design was about what services to offer, their scope, and service catalog management. Service transition was about building and deploying new or modified services and service operation focussed on how the service was actually delivered.
Continual service improvement was about collecting data about the service delivery, analyzing it, and improving the service delivery.
Between ITIL V2 and V3, there was a focus shift from what could be done to improve the process to how the process improvements should be done. There was also an emphasis on ensuring a higher ROI for businesses.
Besides the change in approach, the change in name may also have to do with expanding its scope beyond IT. According to Michael Keeling of DXC technology, "Axelos may be positioning ITIL to follow the likes of Six Sigma and CMMI, attempting to expand its market by offering ITIL as a product that can be applied to more than just IT"
Who is Axelos?
Axelos is a joint venture from the UK Cabinet Office and Capita Plc. They have been the custodians of the ITIL framework since 2013. They were acquired in 2021 by PeopleCert, an organization that offered ITIL certification exams.
The development of the ITIL framework is currently under the purview of Axelos. But they don't conduct examinations or offer training directly for ITIL certifications. The trainings and certifications are handled by their partner organizations. While you don't need a license to use ITIL internally within your organization, but for external uses, for managing changes and updates, you need a license from Axelos.
ITIL wasn't designed with a specific organization or technology in mind, but it was designed for the IT industry. And for the majority of its existence, ITIL has been a framework for information technology. But even then, many organizations outside the industry have been using it, and with ITIL V3, Axelos officially started expanding its scope. And to showcase this change, the acronym was dropped, and the framework just became ITIL.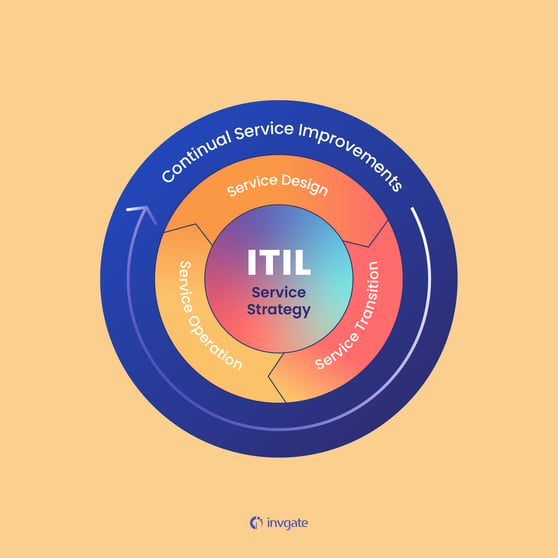 What does the change mean for how ITIL is applied?
While there has been a significant change from ITIL V2 to ITIL V3, and now to ITIL 4, the change in the name itself doesn't bring much change in how it's applied. The name change was to reflect how the scope of ITIL has changed, how the framework evolved to accommodate organizations outside IT. It reflects how ITIL is not just the standards of quality service, but rather a guide on how you can deliver these quality services and get a meaningful return on investment.
Even though more organizations outside IT are using ITIL now, the old acronym is still being used by many organizations. Axelos removed all references to the old acronym in 2007 with ITILV3 before announcing the name change. But it's tough to completely remove an acronym, particularly one that has been in usage for more than 40 years.
You can compare it to how Kentucky Fried Chicken became KFC. The product remained more or less the same, but the change signified how it went global, to a wider audience instead of just Kentucky. And instead of changing the name, they just shortened it.
ITIL vs. IT Infrastructure Library: Frequently asked questions
What is ITIL?
ITIL is a framework for IT service management developed with the aim of ensuring a minimum quality of service. First developed by the UK government, its currently developed and maintained by Axelos, a joint venture by the UK Cabinet Office and Capita PLC. The latest version is the ITIL V4 which is made of 5 volumes and is used by organizations and companies outside the IT industry as well.
ITIL help manage expectations for IT service delivery between organizations and clients. The framework helps ensure organizations get a high return on their investments.
Who or what is Axelos and what do they have to do with ITIL?
Axelos is the current custodian of ITIL. They maintain and update the framework based on industry trends. It is a joint venture by the UK Cabinet and Capita PLC formed in 2013. It is currently owned by PeopleCert. Aside from ITIL, they also have other products like PRINCE2, AgileSHIFT, Resilia, and others.
While they develop the framework, Axelos don't offer training or certifications.
Is ITIL the same as IT Infrastructure Library or Information Technology Infrastructure Library?
Since ITIL V3, Axelos decided to drop the acronym, and Infomation Technology Infrastructure Library became just ITIL. This was to further showcase its expanded scope to other industries along with other changes associated with V3. While you'll only find ITIL in the framework volumes, both the names are still very much used.
So to answer the question, ITIL is the new name for the same framework, but both names are used commonly.