One of InvGate's guiding principles is to "simplify what is complex;" so, we've been finding ways to leverage our solutions with machine learning and testing different tools inside our platforms that could make a real difference for our users. Thus, the introduction of Support Assist.
InvGate Service Desk's Support Assist is an Artificial Intelligence engine that enhances the support capabilities of help desks for all types of businesses and departments. Its main goal is to increase productivity by lending a helping hand to service desk agents.
Let's take a closer look at how it works and how you can try it in your instance!
How InvGate AI Assistant works
InvGate Support Assist is powered by AI with functionalities based on Natural Language Processing (NLP), Neural Networks, and other algorithms. In a nutshell, it seeks to suggest actions that could positively impact the performance of IT support agents.
"We believe that Support Assist will be a significant difference in agents' day-to-day, decreasing request handling time."

Pablo Vergne
Director of Product Management at InvGate

Its main goal is to suggest actions agents typically use in their organizations. To do this, the AI collects data from the instance in which it's installed and educates itself to provide recommendations based on common patterns.
In particular, Support Assist provides help for every ticket with the following actions:
Update Priority: Change the priority of the request for a better service.
Update Category: Ensure tickets are accurately categorized and assigned to the right agent faster than usual.
Relate Major Incident: Support Assist also helps you identify if the request must be related to a major incident for a proper resolution.
Since the suggestions provided by the Assistant come from your tickets' activity, all you need to do to train it to your needs and standard operations is to keep solving the requests as usual. Hence, the more you use InvGate Service Desk, the better recommendations you'll get.
5 benefits of enabling InvGate Service Desk's Assistance
By enabling the Assistant in your Service Desk instance, you'll improve:
First-response times - The suggestions can help you place the requests into the right category, contributing to a faster response (and therefore, resolution).


Quality of solutions - Since the suggestions are based on your company's frequently solved tickets, using them will normalize processes, actions, and ticket categorizations.


Major Incident Management - Predictive suggestions will also allow you to quickly identify a major incident, thus speeding up and improving its resolution according to best practices.



Agent and user experience

- Having an assistant that bases its recommendations on your company's standard procedures helps train your agents, gives them the confidence to decide with more autonomy, and decreases the chances of burnout. Plus, it improves the end-user experience by enhancing a fast, standard, and qualified resolution to incidents.


Reporting - By changing tickets to the right category, you'll be able to create more accurate routing and reporting, including SLA fulfillment.
How to configure Predictive Suggestions on InvGate Service Desk
The first step is to choose the type of suggestions that will be generated for agents. To do this, go to Settings >> Requests >> General, and click on Suggestions. In there, you'll be able to choose from the functionalities we mentioned above (Update Priority, Update Category, and Relate major incident). Don't forget to save the changes!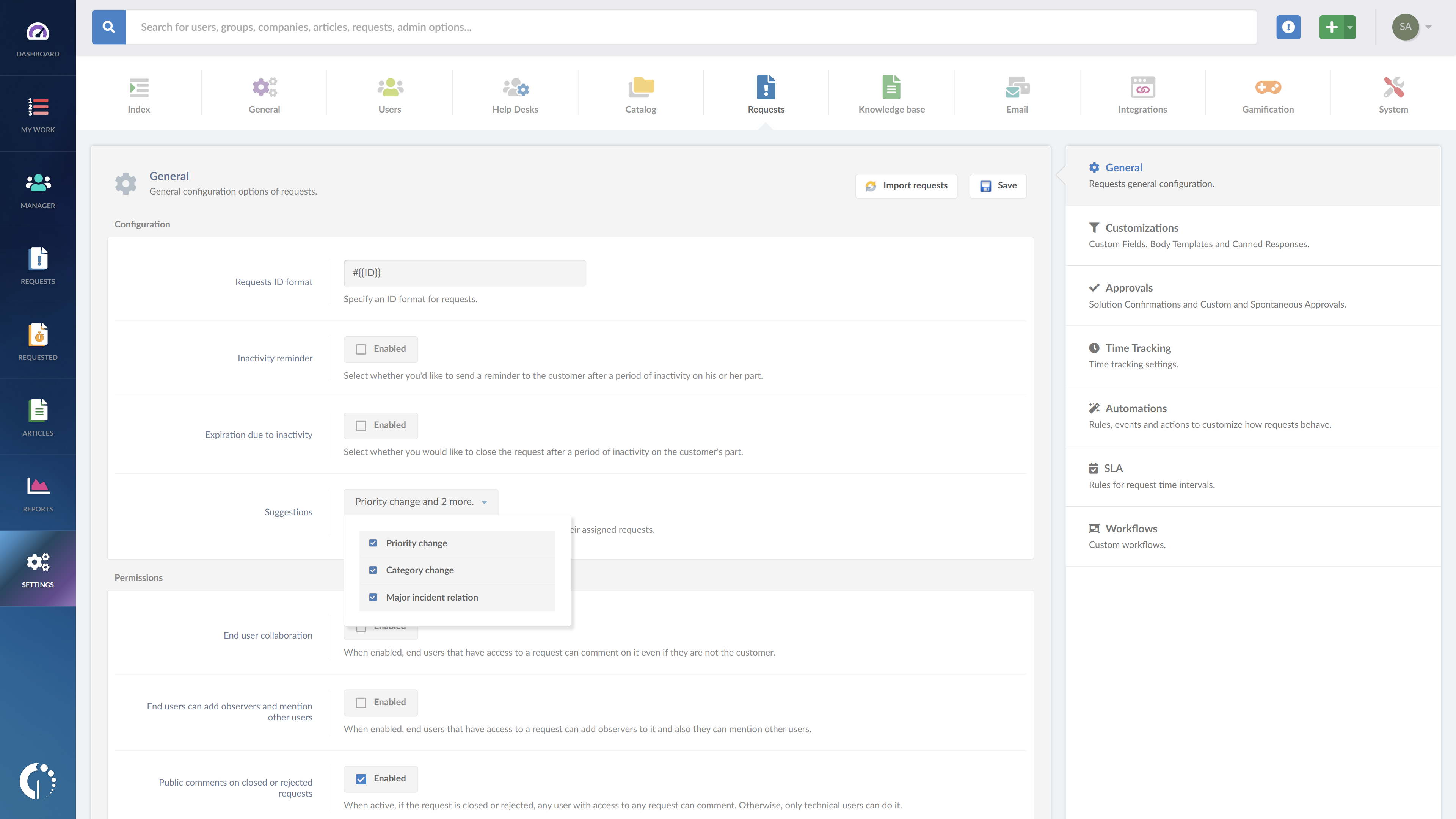 Once you configured the suggestions, you'll find the Suggestion box in the right column of the Request view. Take into account that only agents assigned to requests will be able to view the suggestions.
Each suggestion contains two buttons: one to apply the suggested action and another one to hide it. Your agents should choose the one that suits best in that context to contribute to tailoring the AI.
To sum up
Support Assist is here to increase productivity and allow agents to solve requests easier. Thanks to it being AI-powered, common actions taken by agents for specific requests can be predicted after the pattern is spotted so that the next time the issue arises, the Assistant can recommend them.
"We believe that AI-enabled solutions are the future of ITSM; that's why we are investing time and resources in understanding how to improve the day-to-day of our product's users."

Ariel Gesto
CEO and Founder of InvGate

For the time being, it can help agents with changes in priority and categories, and in determining whether a ticket should be related to a major incident. Of course, you can choose to enable all three of them or just the ones that suit you best, but they are all focused on improving end-user experience, decreasing agents' workload, and enhancing SLA fulfillment.
Sounds interesting, right? Ask for a 30-day free trial and see it for yourself!