Innovation and entrepreneurship are driving forces for economic growth and development around the world. As technology advances and the global marketplace becomes more competitive, cities are increasingly seeking to attract and foster startup ecosystems to spur innovation, job creation, and investment.
For that reason, at InvGate, we studied and examined various factors, including research institutions, available talent, number of startups, funding, and local support networks to create this report. The findings provide valuable insights for entrepreneurs, investors, and policymakers looking to tap into the most promising cities for the next wave of innovation and growth.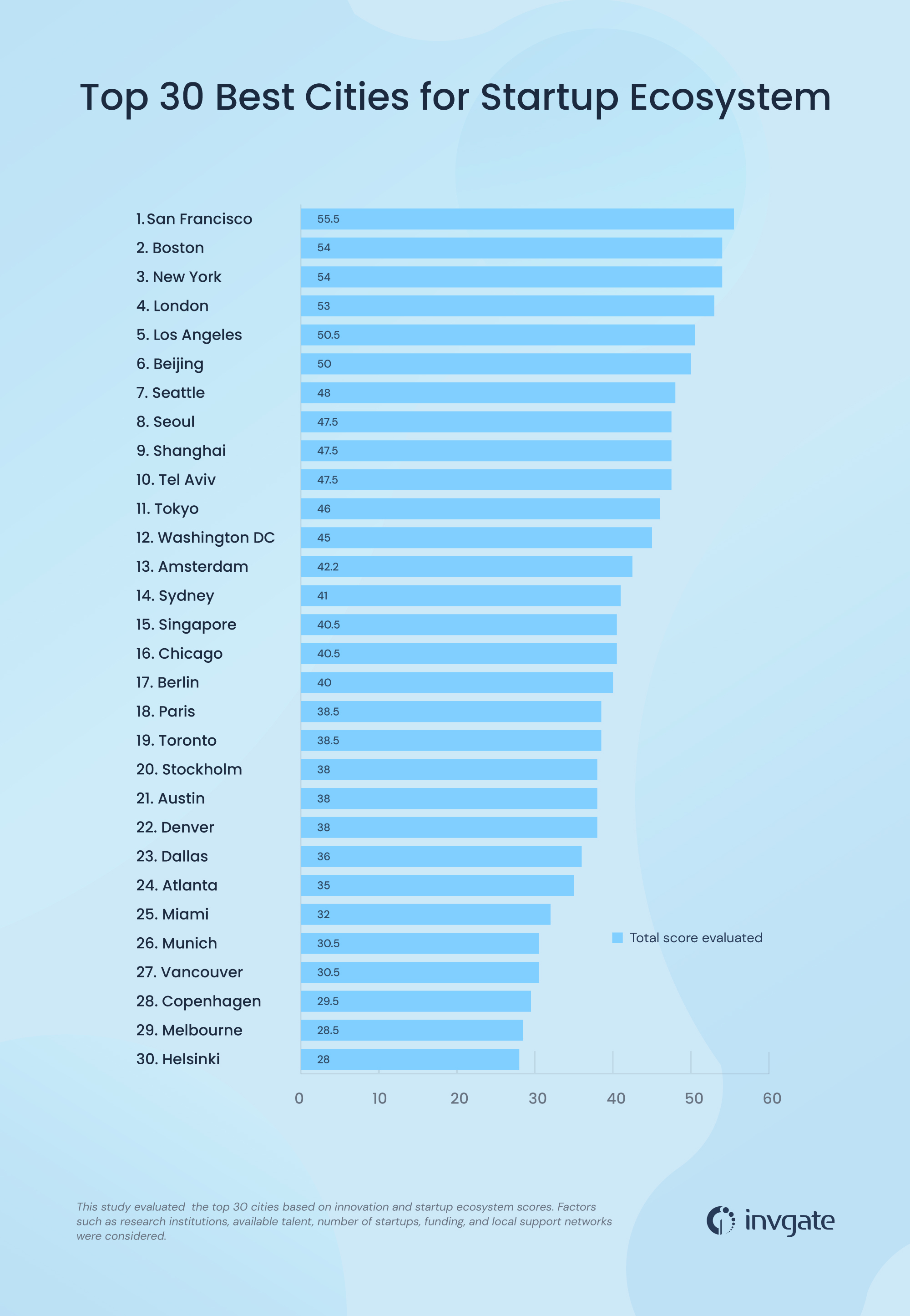 The North American region dominates the ranking, with six cities among the top ten
The United States continues to dominate the global startup landscape, with several cities ranking high in the latest study evaluating the top 30 cities for startup ecosystems. These cities have a strong presence due to their innovation ecosystems, with factors such as the presence of research institutions, the availability of talent, and the quality of infrastructure playing a significant role.
Additionally, the US has a strong education system and research institutions, which generate innovative ideas and provide a pool of talented individuals who can contribute to new startups. There is also a vast network of funding sources, including venture capital firms, angel investors, and crowdfunding platforms, which provide a range of options for startups looking to raise capital.
Finally, the US has a large market and a culture of consumerism, which provides opportunities for startups to test and scale their products or services quickly. The presence of large companies, particularly in technology and finance, also provides a supportive ecosystem for startups in those industries.
Rise of the East: Asian cities dominate in the top rankings
Asian cities are also prominent in the rankings, with six cities in the top 20. Beijing and Shanghai lead the way with strong innovation and startup ecosystems, while Seoul and Tokyo also score highly. Tel Aviv, often referred to as the "Silicon Wadi," ranks highly in terms of its startup ecosystem. These cities represent the growing importance of Asia in the global startup ecosystem.
In addition to government support, Asian cities are also benefiting from a large and growing pool of skilled talent. Many Asian countries have strong education systems that are producing highly skilled graduates in fields such as engineering, computer science, and business. This talent pool is attracted to the vibrant startup ecosystems, which offer exciting opportunities to work on cutting-edge technologies and innovative business models.
Ultimately the rise of Asian cities can be attributed to the increasing availability of funding opportunities. Asian venture capital firms are investing heavily in the region, and global investors are also taking notice of the growing opportunities in Asian markets. This funding is helping to fuel the growth of startups in the region and is enabling them to compete on a global scale.
Key findings
San Francisco (Silicon Valley) received the highest score in the Startup Ecosystem category with a score of 60 out of 60. This city is known for its concentration of high-tech companies, venture capitalists, and startups.


Tel Aviv received the highest score in the Innovation Ecosystem category with a score of 51 out of 60. This city has a strong startup culture and is known for its focus on innovation, particularly in the tech sector.


This study also revealed that cities with a high quality of life and good infrastructure tend to attract more talented individuals. This can be seen in cities like Amsterdam and Copenhagen, which scored high in both the Innovation and Startup Ecosystem categories.


The report found that there is a strong correlation between the number of startups in a city and the level of economic growth in that city. Cities with a thriving startup ecosystem tend to have a higher GDP growth rate than those without.


We also identified some emerging startup hubs, including Seoul, Shanghai, and Beijing, which have seen a significant increase in the number of startups in recent years. These cities have large populations and growing economies, which make them attractive locations for startups.
Methodology
Final scores were calculated by category according to the following proportions:
Innovation Ecosystem - The Innovation Ecosystem score was calculated based on the 2thinknow Innovation Cities Index.
Startup Ecosystem - Startup Genome's 2022 Global Startup Ecosystem Report, the number of startups in each city, and on the availability of capital and funding.