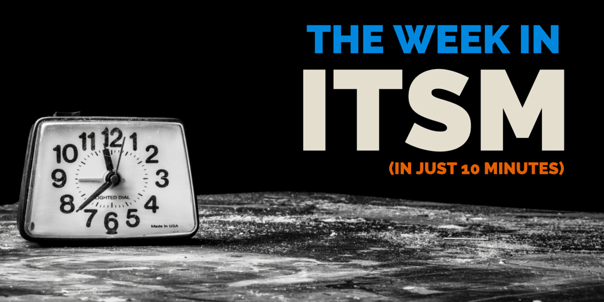 It's been a busy week here at InvGate but I want to take a few minutes to send out some helpful links and resources for our blog readers.
We'll be releasing posts both on ITSM and general IT news every Friday from here on out so make sure that you're subscribed to our free newsletter!
Happening this Week
This time of year there's always a lot of chatter coming out of the RSA Conference. While some of it is just background noise, there are certainly nuggets of wisdom to be found. Look no further than Sharon Shea's interview with Domingo Guerra. It's short and sweet and deals with a topic we are watching closely - the impact of wearable tech in the work place.
From the Blogosphere
Some other interesting IT topics have been in the news recently as well, take a look at these articles when you've got a few minutes:
Increased Demand For ITSM Pegged To BYOD (via Whatech)
Is IT Making Your Commute More Affordable? (via Jim Irwin and Final Inspection)
Who to Follow
In addition, we like to highlight any movers and shakers we encounter on social media. If you're on Twitter, check out and follow these folks!
"Design thinking is going to change everything! My vision: use design thinking to revolutionize security."
via @HowHackersThink
"Just because you are not a problem manager doesn't mean that you can't help improve the process."
via @RyanOgilvie
"Is hitting #servicedesk efficiency targets really more important than helping end users get back to work? #ITSM#metrics."
via @StephenMann
Fresh From the InvGate Blog
Also, have a look at the first post in our series on The 4 Deadly Sins of Service Management. We would love to hear your take on this topic. Share your success stories (or your nightmares!) with us! The 2nd part of the series will go out on Monday and we'll be discussing the topic at length all month long.
Wrapping it Up!
Lastly, as you wind down from a tough week full of IT fires, we want to leave you with some positive words of wisdom
"Share your knowledge. It's a way to achieve immortality."
- Dalai Lama (@DalaiLama)
Enjoy your weekend!