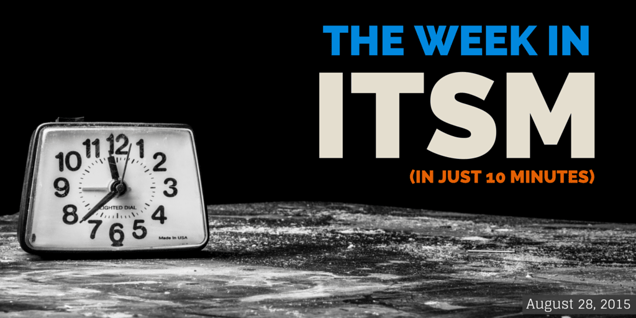 Happening this Week
Earlier this week, SBWire issued a press release on some very interesting ITSM trends. According to the report, one of the biggest reasons for the rise in need for ITSM is the number of personal devices in the work place. It would appear that the impact of the BYOD movement is now being recognized in our industry!
From the Blogosphere
Some other interesting IT articles have been circulating too, have a look at these articles when you've got a few minutes:
What is a DevOps Role? (via The IT Skeptic)
ITSM Drives the Global Car Fleet Industry (via Adrian Bridgewater)
Who to Follow
Each week, we like to highlight those we've come across on social media. If you're on Twitter, these folks are worth following!
"Disappointing to see "it's either #ITIL OR #DevOps" starting. Use all the sources you need to deliver #value."
via @ClaireAguutter
"IT frameworks agree: customer may not always be right but they do define the value we design, deliver & support. #DevOps #Agile #lean #ITSM"
via @DanielBreston
"I wish your SaaS support tool benchmarked knowledge base metrics like average reuse count and article rating by use case/industry."
via @KnowledgeBird
Wrapping it Up!
Many of you have gone through a hectic week full of back to school festivities. As you settle into your new routine, we want to pass along an insight from a teacher to help you keep an even keel.
"Take a deep breath and try to relax. The students are as nervous as you are"
– S. Thornton
Enjoy your weekend!