It's always something, isn't it? It seems that just as you've gotten your organization up to speed with ITAM guidelines, some newfangled idea comes along to stir things up. But IT is (or should be) all about continuous improvement. Stationary things wither on the vine; things that move, evolve. ITAM 2.0 is precisely about keeping things moving along in the right direction. And, like it or not, managing your asset inventory is always going to be open to improvement.
If you're a frequent reader of our site, then it's likely you've read our ITAM Definitive Guide. And, if you were paying attention, you've used it to solidify your asset management practices according to ITIL guidelines. If you need a bit of a refresher before we get things started off, we wrote:
"ITIL – the most popular body of service management best practices – defines the purpose of ITAM as: '…to plan and manage the full lifecycle of all IT assets, to help the organization:
Maximize value
Control costs
Manage risks
Support decision-making about the purchase, re-use, retirement, and disposal of IT assets
Meet regulatory and contractual requirements."
So, in essence, it's about making the most out of your existing assets, keeping costs down, and also managing asset lifecycles intelligently. All while crossing the t's and dotting the i's.
And, by assets, we mean everything from software, data, cloud-based, and hardware assets. Asset management, and thus ITAM, encapsulates the totality of your IT sphere, both the tangible and the intangible.
Thus, we come to the newest iteration of ITAM, and with it necessary changes and leaps forward. But first, a little history is in order!
How did ITAM become a thing, anyway?
ITAM, in and of itself, was derived out of a very real financial need. Optimization and asset management are well and good, but really, it all boils down to this: a well-managed organization incurs fewer financial losses and uses assets intelligently in order to maximize their value. Hence, from this, we can easily derive a truism such as "bad management empties pockets."
But why say it again when it's been said before, and better? Our guide continues to provide further insights:

"For many organizations, the primary motivation for ITAM, and SAM, in particular, is financial – reducing asset costs and/or optimizing asset use – with the latter increasingly being linked with value creation.
Accurate asset data not only drives better financial decision-making, but also facilities other ITSM capabilities such as incident management, problem management, and change management. For example, ITAM can help IT service providers to deliver better IT services and support to employees and external customers while helping businesses to better use technology assets as both an enabler and competitive differentiator."

Additionally, there's the licensing issue. ITSM also makes sure that every bit of software complies with all active rules, regulations, and guidelines. Come audit time, you'll be especially grateful for this last bit.
And then, there's the crisscross between ITAM and ITSM; there's a frequent overlap because they complement and enhance each other. We won't go over ITSM in detail, we'll say that data from proper ITSM can help collate information that makes for even better ITAM. And the reverse is also true, where the processes and the information provided by ITAM can also aid ITSM. It's an Ouroboros of goodness when done right.
ITAM 2.0, or the shifting of goalposts
Some people in the world of asset management are not so keen on ITAM. They've even gone as far to say that it's "overpromised and under-delivered." But, what was it really lacking in order to go from "nice try" to "core IT function?
The key aspects here are the governance gap and Operation Technology (OT).
Operation technology is a term that signals the convergence of digital technologies and manufacturing. These technologies have radically altered and improved the way manufacturers approach risk reduction and spending optimization, among other things.
And, it used to be that operation technology was its own little company niche, away from information technology in general. But guess what? Everything's digital now, and manufacturing is not an isolated universe. Any company that's tried to keep things in their separate little parcels is going to have to accept this fact and get with the times.
The alternative to efficient IT management? Suffer the dire security consequences, for one. But let's not get ahead of ourselves. First, let's take a look at this newest iteration of ITAM in the context of how IT and OT converge.
Together, not separate
It used to be that if you had a production-floor machine, it ran by itself, irrespective of the rest of the factory. Now, everything's connected to everything else, and the boundaries between what's "productive" and what's related to IT are not so clear anymore. The advent of a digital-first world has only facilitated the erosion of those walls even more
OT, as we have said before, is found in industries that manage critical infrastructure — must-have things like water, gas, and oil. Of course, things like construction, the pharmaceutical industry, and anything that requires a real-life chain of production is part of OT as well.
Once upon a time, as one would have it, IT and OT were parallel lines, never to intersect. Or rather, OT functioned within its own private network, not part of a larger framework of asset management that intersected the productive and the corporate aspects.
Now, everything's part of the same unified network. And with that need to have it all under the same roof comes the adjacent need for an asset management framework that keeps things nice and tidy. This, in essence, is what we call governance: our best shot at total control.
The name of the game, then, is no longer about compartmentalization but rather efficiency and unity. While OT used to be more about physical concerns alone, the always-connected nature of every device today necessitates changes in how we approach ITAM as well.
And this brings us to the next order of the day: cybersecurity.
Cybersecurity in a new ITAM world
It used to be that cybersecurity was about making sure no one broke into your network. Now, even that part of asset management has changed. It's no longer about keeping enemies at bay, but about making sure no Trojan horses are hidden within your midst. If that sounds a bit pretentious and overly dramatic, it's because it is. But, the point still stands: sometimes it's the enemy within that causes operations to come to a standstill.
Sometimes, employees, contractors, or partners can knowingly or unknowingly pose serious security risks. In fact, according to Cybersecurity Insiders' 2020 Insider Threat Report, internal attacks are becoming increasingly more common. In fact, 56% report that insider attacks have become harder to detect than before since operations migrated to a cloud-first approach.
And this is precisely where this new framework attempts to nip things in the bud. Using a bottom-up approach, it aims to protect organizations from internal attacks. That is, the idea is to keep your house in order and simultaneously protect it from external threats. This coincides with the larger framework of governance that we were espousing in the previous section.
And the way to do it is with more efficient asset management. Organizations need to be able to collect data about every device that's within its IT/OT sphere. They need to gain an unprecedented level of insight into what's going on with every single printer, computer, iPad, or assembly-line machine that's in the same network.
With this information, they can hopefully be able to predict and prevent any —ahem— unforeseen events.
And is the best way to do it with highly specialized tools that produce endless subsets of hyper-specific data? Or with an all-purpose solution that provides a one-stop control center?
What to look for in an ITAM tool
Now, with these ever-shifting goalposts, it may seem overly complicated to tell what makes a good ITAM tool. But while the world of asset management can be complex, knowing what makes a good tool isn't.
Here's what you need to have.
The ability to automatically tell what IT assets are connected to your network and their corresponding statuses. This includes the ability to "generate an IT asset inventory of all SNMP devices connected to your network – such as servers, PCs, network printers, routers, switches, and access points, etc. – automatically."
Get automated alerts for any changes to any and all devices. Nothing should be able to slip through the cracks.
Update and manage each and every station remotely. LAN and WAN should allow your IT staff to take control of any end-user workstations as needed. It goes without saying that global software updates should also happen automatically.
And, of course, we don't want to go too hard in the self-promotion department, but you know InvGate Insight has all that covered, and more. InvGate Insight balances power and ease of use, making it an ideal tool not just for asset management, but also for asset discovery, license management, and software deployment.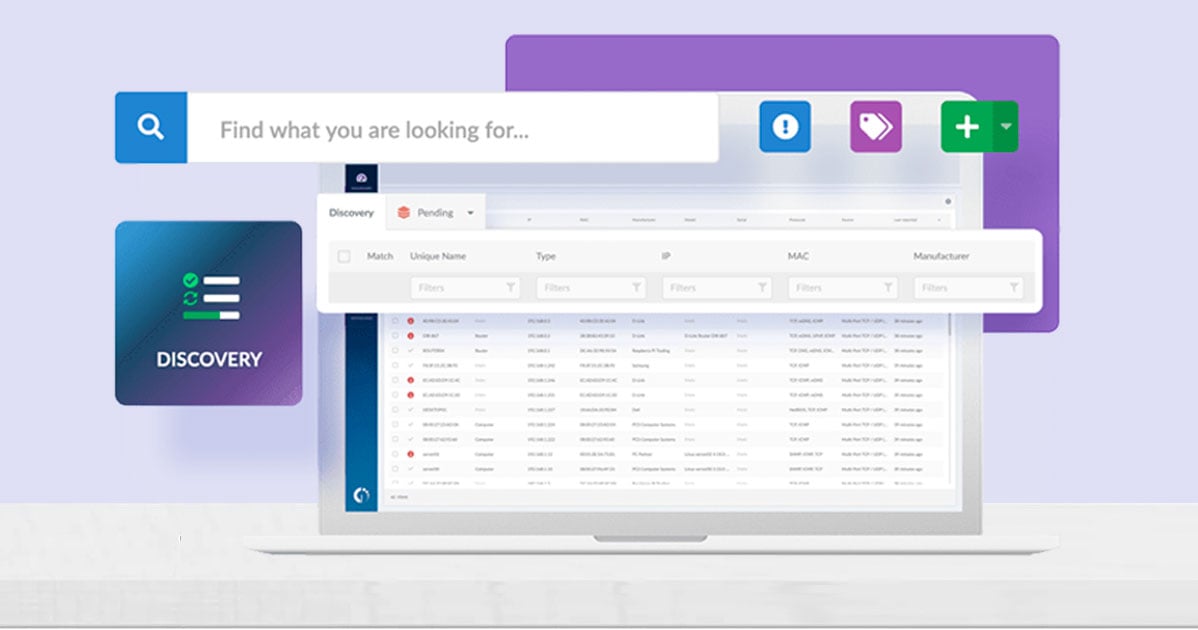 InvGate Insight gives companies ability to effortlessly discover their entire IT infrastructure, resulting in a 360-degree view of both their cloud and physical assets. This simplifies inventory management and ensures that you're running a tight ship since your entire IT ecosystem is mapped out (complete with configuration management data).

In the end
Nothing ever stays stationary. And that an always-online, always-connected world requires solutions that govern every network device as part of a unit rather than see them as —to borrow a phrase from evolutionary biologist Stephen Jay Gould— "non-overlapping magisteria."
And that's where this new iteration of ITAM comes in, and why your chosen solution should help you stay on the ball, in the game, and winning.