As I write this blog on IT service management (ITSM) predictions for 2022, I'm not entirely sure where 2021 disappeared to. 2021 went very much the way of 2020 for many IT organizations. However, it did see the replacement of 2020's need to rapidly move employees to homeworking (and changing IT services and support capabilities to reflect new ways of working) with the need to return some employees to office-based working. While also catering for an increase in what are commonly called "work from anywhere" (WFA) employees.
Now in 2022, your IT organization can likely look at its improvement opportunities more proactively (even though the global pandemic is still hurting many parts of the world). In particular, it's time for ITSM to make an even bigger difference to business operations and outcomes. So, if your IT organization can improve its service delivery and support in 2022, where should it focus its efforts?
To help, this blog offers three ITSM predictions for 2022 that relate to improvement opportunities for your IT organization to become all three of "better, faster, cheaper."
It's finally time to get the ITSM "basics" right
A late-2021 ITSM survey by AXELOS and ITSM.tools found that many organizations still need to improve their core ITSM capabilities. For example, it found that, for knowledge management, only 16% of respondents feel that their IT organization's capabilities are working well, with a massive 63% stating that they need improvement. The complete response breakdown is: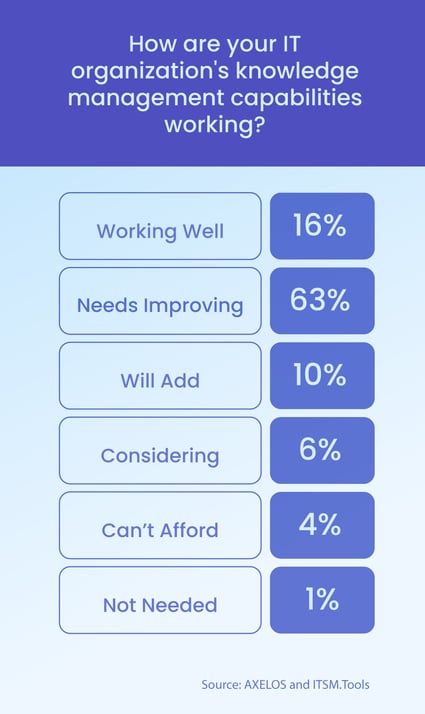 While some might not consider that knowledge management is a core ITSM capability, the responses show differently – with 79% of organizations having knowledge management in place.
To further prove the need for "basics" improvement, while the results for incident management were better, the same amount of organizations feel the need for improvement as those whothat deem their capabilities to be working well.
The critical point here is that most organizations using a given ITSM process/practice feel that their capabilities need improving.
Hence, there's the need to consider the impact of potential to asses ITSM process/practice deficiencies and the need for improvement. Some possible improvements might be cost-prohibitive – for example, the need to invest in a new ITSM tool. Some might relate to a lack of the right ITSM knowledge, skills, and experience (or simply being understaffed). There will likely be other potential barriers to improvement too.
But these "excuses" need to be seriously considered, and addressed where necessary, when we look at the importance of having optimized ITSM capabilities through both an ITSM and wider enterprise service management lens. For many organizations, especially when addressing the following predictions, 2022 is the time to get their ITSM "basics" right.
Savvy organizations will take a "people eats technology for breakfast" perspective
I wanted to use the more grammatically correct "people eat technology for breakfast" in the prediction, but it conjured a bad mental image. To explain: you might remember the Peter Drucker quote that "culture eats strategy for breakfast." This prediction is in a similar vein – that while ITSM has moved the focus from managing technology domains to services, there's a need to continue to "move the dial" from services to people-centricity.
In 2022, we'll see an even greater focus on employee experience (some might call this "end-user experience") and how technology affects it – both positively and negatively. In particular, how IT devices, applications, and services plus the quality of IT support affects employee productivity and then, in turn, business operations and outcomes.
The need here is to improve and change the IT organization and ITSM capabilities to meet employee and business needs and expectations better. TImportantly, this requires a change in mindset that alters both IT strategies and then culture – such that future IT decisions, including investments, include the employee experience perspective as well as more traditional factors.
Intelligent automation will make even greater inroads into ITSM operations.
The opportunity of artificial intelligence (AI) for ITSM has been on annual prediction lists for half a decade. I prefer the term "intelligent automation" to recognize both the action-based element of what's needed and the arguments that what's currently available, i.e. capabilities based on machine learning and natural language understanding (NLU), isn't "true AI." It might be semantics for some, but it perhaps also helps with any concerns people might have regarding AI and the future of humanity.
Terminology aside, intelligent automation is already available to ITSM teams – helping them with both the "heavy thinking" and the "heavy lifting." The table below shows the results from an early-2021 ITSM survey. While these adoption levels might surprise you, you should expect the numbers to increase significantly as we get into 2022 – thanks to both the sharing of success stories and the maturing of the intelligent automation capabilities available in ITSM tools.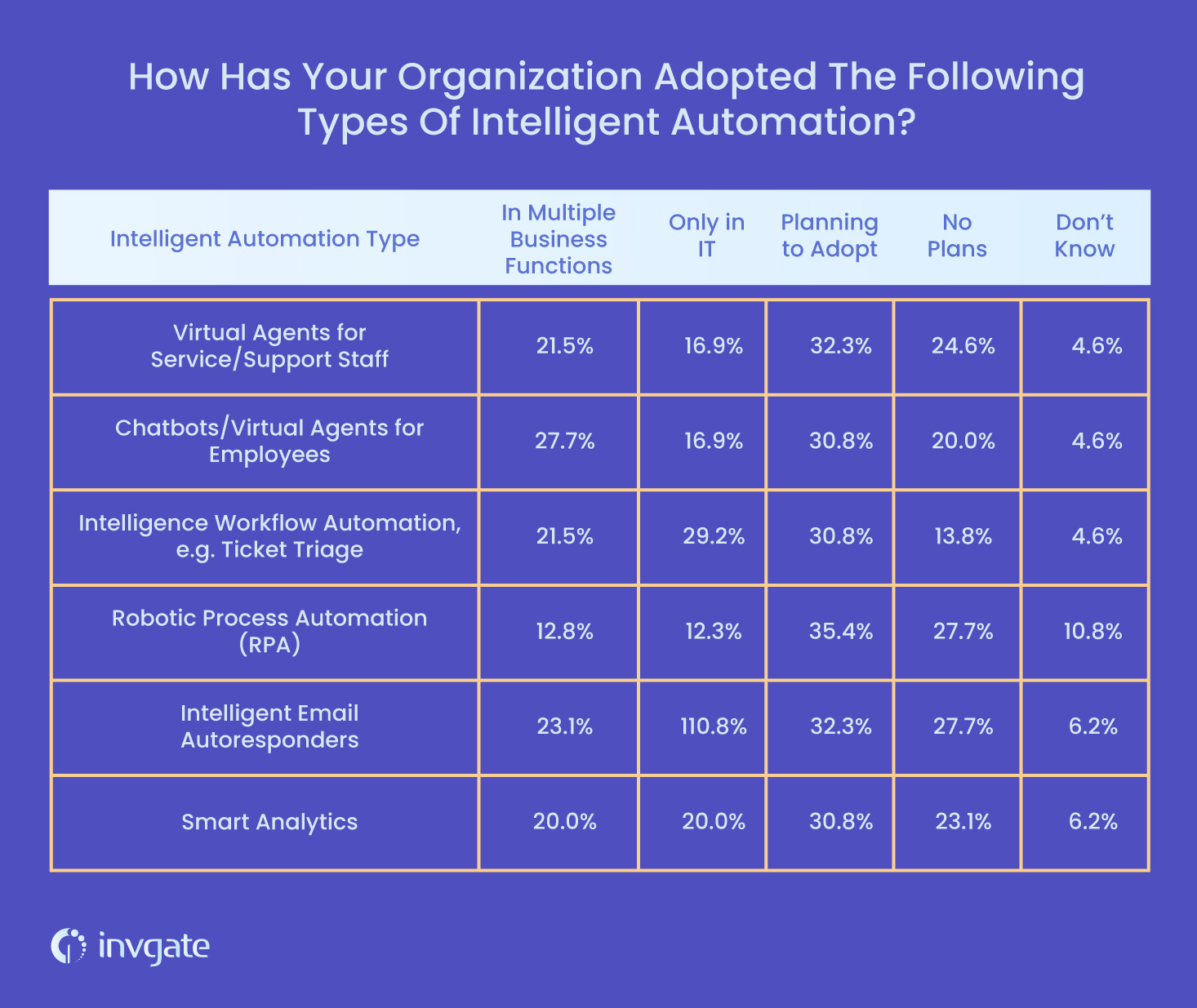 The bottom line is that intelligent automation is no longer a "future thing." It's already taking hold of traditional ITSM practices as organizations leverage their available capabilities to be all three of "better, faster, and cheaper."
Returning to prediction #1
It doesn't matter if you want to improve the employee experience, take advantage of intelligent automation, or improve the employee experience using intelligent automation – the quality of your organization's existing ITSM capabilities is essential.
So, if and when initiatives seek to improve experiences or add new technologies, please make sure that your organization makes suitable investments to address any issues with the quality of its existing ITSM capabilities. The adage applied to automation-introduction still rings true for intelligent automation – all that adding automation to a flawed process does is gets you to the bad outcomes more quickly. So, always address processes opportunities before the technology..