It has been a HUGE last few months for the Service Desk team, with 4 major releases and the addition of more than 15 new feature improvements.
Our focus has been on management of shifts, holidays and absences, expanded automation, improved user management and enhanced accessibility from mobile devices.
So what is included in these most recent releases?
1. New Shifts, Absences and Calendar Management
Shifts by Help Desk:
We have completely overhauled the management of shifts within Service Desk. You can now create an unlimited number of shifts to cover all of your local and international operations and teams. Simply define the days and hours for each shift and apply it to the relevant help desks. Shifts can also be applied to individuals to account for team members that may work adjusted hours.
Holiday Calendars:
We have streamlined the management of company and team-wide absences, and you can now upload multiple Holiday calendars and then apply them directly to Help Desks. This is ideal for Public Holidays, office closure periods during the holiday season and company wide meetings or off-site events.
During events within the uploaded calendar, the related Help Desk will be closed with the requests either being escalated automatically or awaiting the help desk to reopen to be assigned.
Absences:
You can now create Absences for agents to designate when they will not be working in the Service Desk, for example due to illness, holidays or to attend a meeting. This will remove the agent from rotation so they do not receive tickets via the automatic assignment engines.
You can permit agents to create their own absences or restrict the functionality to just coordinators and managers, as well as view a historical record of all upcoming and previous absences within the user's profile.
2. All New Mobile Interface
We have created an ALL NEW mobile interface for both End Users and Agents. The new responsive web design provides maximum cross device compatibility with a simple and intuitive layout that makes ticket creation, management and even knowledge base access a breeze when you're away from your desk.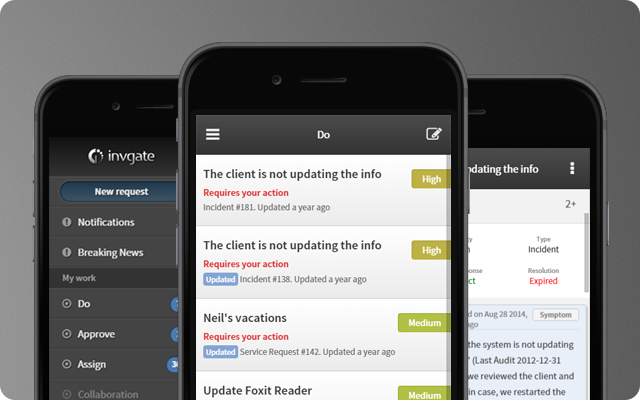 To try this new version simple navigate to the following link with your mobile device or tablet: https://webdemo.cloud.invgate.net/
3. Extended Business Rules and Triggers
We have further expanded our automation capabilities with additional Business Rules and Triggers . While process automation to control the complete ticket lifecycle will continue to be handled by our Workflows Engine, new light automation tasks can now be executed for trigger events such as new ticket creation or a change of status
Available Trigger Events: New Request Created, New Reply in a Ticket, Request Escalated, Request Priority Changed and Request Status Change
Available Automatic Actions: Approval Request, Reassign Request, Reject Request, Add Observer, Send Email, Change Priority and Call a Web Service
These new capabilities will significantly reduce workload in ticket management, improve external systems integration and streamline the process of customizing user notifications.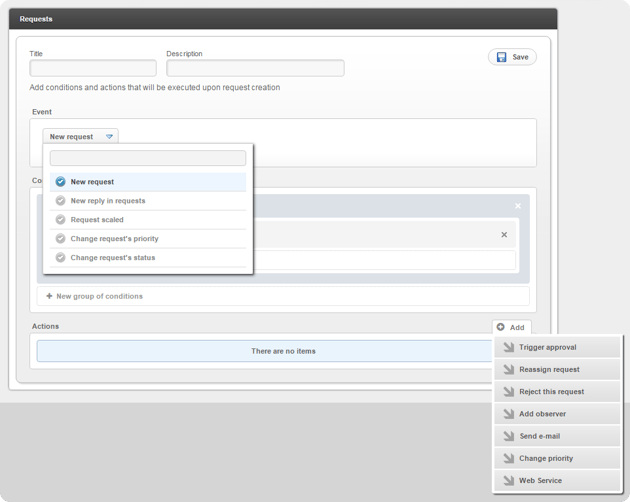 4. User Self Registration
We have added a new integrated self-registration functionality that permits users to register directly for access to the end user portal. This feature will greatly ease user management workload for those organisations who want to provide more open access to their knowledge base for customer support, or have a dispersed user base that may not be included in Active Directly / LDAP. You can restrict access to users based upon their email domain or provide free access to everyone, the choice is yours.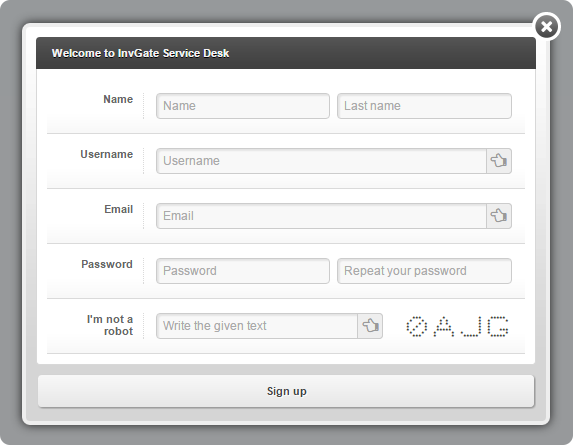 5. Google Accounts Integration
Do your customers or employees utilize Google Email or Apps on a day to day basis? If so, this feature is for you.
Service Desk can now authenticate users against a Google Account, adding additional flexibility beyond LDAP user management. Again, access can be restricted to specific domains through Service Desk, and user management can be handled directly through Google Apps.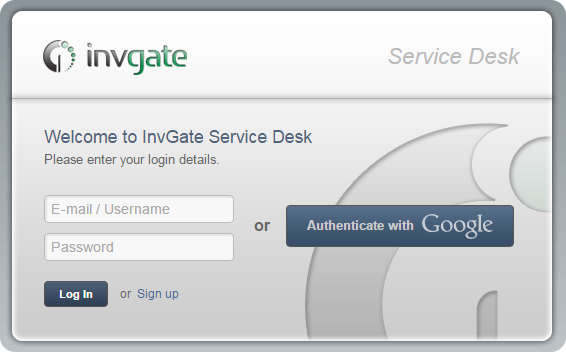 6. New API Calls
We have added a variety of new API calls to create more powerful integrations with your external systems. Some of the highlights include:
All new calls for Breaking News allowing you to create and update your alerts. This is great for integration with your monitoring tools to warn technicians or end users about outages or scheduled maintenance.
The ability to add attachments to tickets via the API, as well as download any existing attachments from your tickets. This is great for integration with external systems eg. bug tracking, purchasing, or social media tools.
Additional calls to better manage Approvals, including queries for all approval requests associated with a ticket and their current status.
We are adding new calls to the API each week, so don´t forget to check the full details and updates in our InvGate Service Desk API Manual.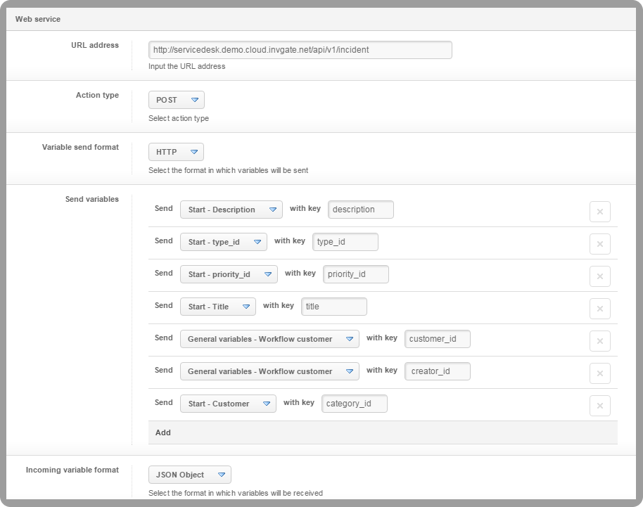 What's Next?
Service Desk v5.4 is just around the corner, and it is going to be packing some major UX updates to make it even easier to manage your Service Desk.
We're talking lightning fast configuration changes to make implementing new ITSM initiatives a breeze, as well as enhancements to performance management tools like SLAs to ensure they keep pace with growing organisational complexity.
Don´t forget, if you want to see all of the details of each release, you can access the information through our InvGate Service Desk Change Log.