Workplaces are in the midst of a paradigm shift. As companies deal with a workforce that is all but scattered to the winds, they need a way to optimize their processes, give visibility to their IT staff, and empower their employees to bolster autonomy. Otherwise, they'll end up with redundancy, over-reliance on inefficient communication, and a lack of transparency. Breaking this cycle requires a transformative approach.

InvGate Service Desk 7, the latest version of the Service Desk platform, is here to solve this. This latest release is designed to give power to the people by allowing users to quickly see all services available to them, keep track of their requests, and take action with just one click.

Continuing our mission to streamline IT service support with our widely-praised request interface, and advanced workflow management and reporting, Service Desk 7 presents the brand new Self-Service Portal, a one-stop hub where users can at a glance find their requests and pending actions. This makes the work of end users and administrators easier by creating an intuitive homepage, also providing increased options for customization, and arming companies with the means to add identity and branding to their user experience.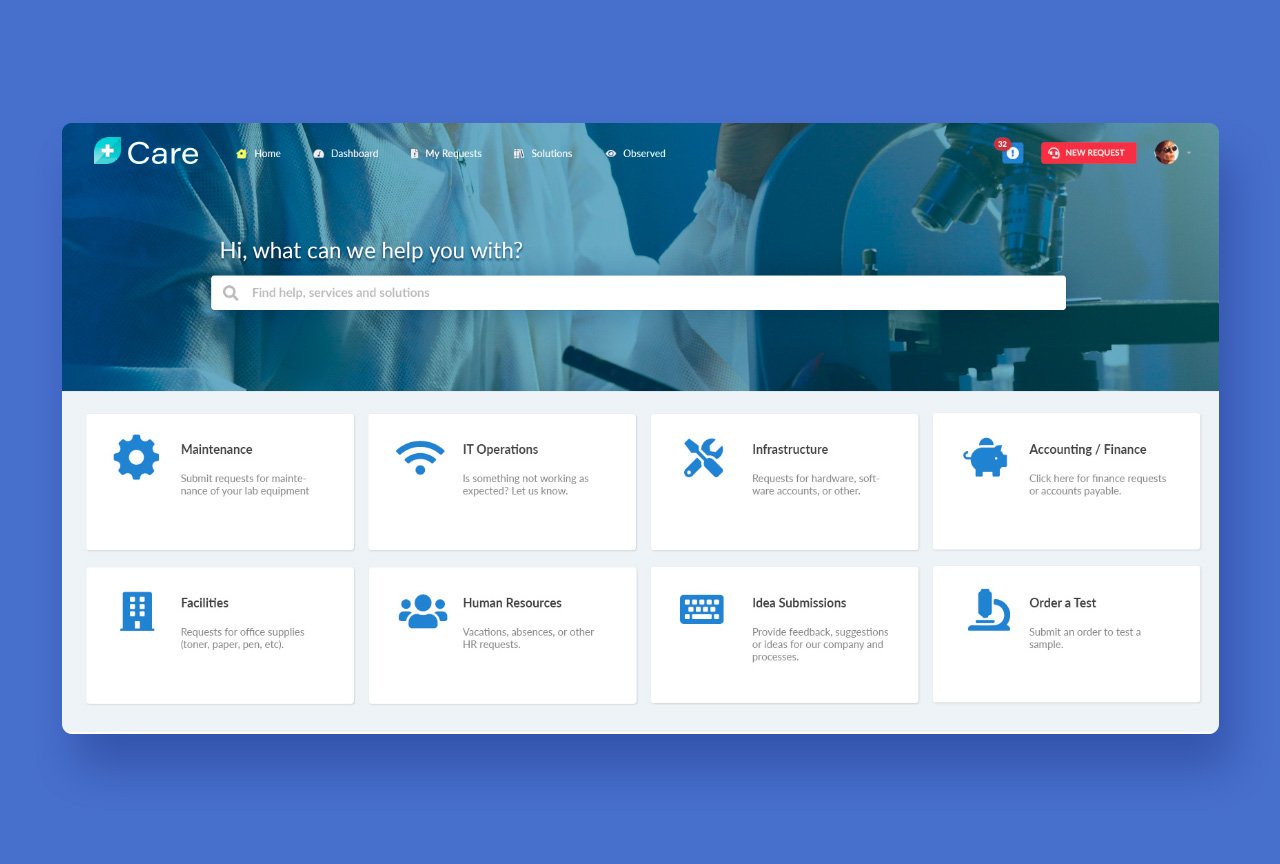 What's new?
Brand customization
The user interface is receiving a full makeover. This interface will allow each company to apply branding and customization, truly making the Service Desk platform its own.
Not only does the homepage feel new, Service Desk 7 presents functional changes to ensure that navigating the new Self-Service Portal is a breeze.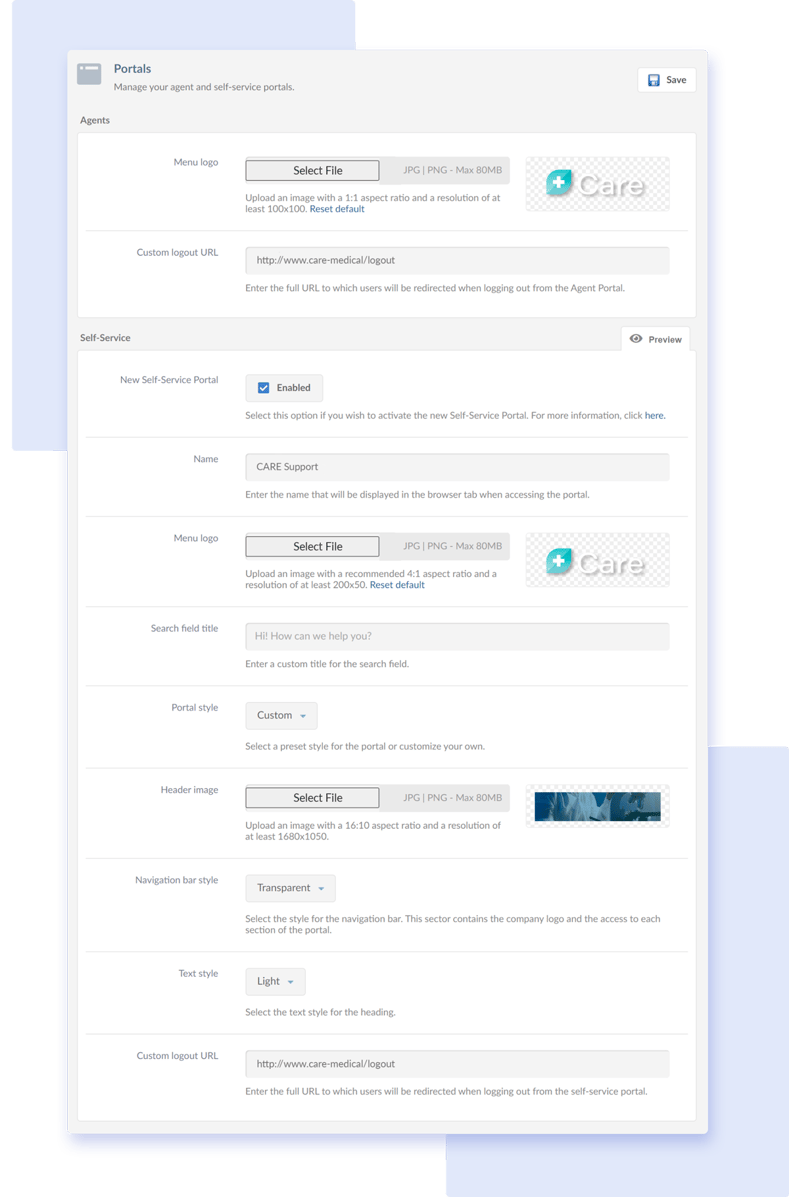 Increased findability
Service Desk 7 comes with a prominent and responsive search bar. This will enable the user to quickly find what they're looking for. As they type a query, the bar will suggest actions related to their needs, such as a Knowledge Base article or the creation of a Request in a specific category.
Since the search bar will allow quick access to Knowledge Base articles, we've removed the Knowledge Base module from the homepage to reduce visual clutter.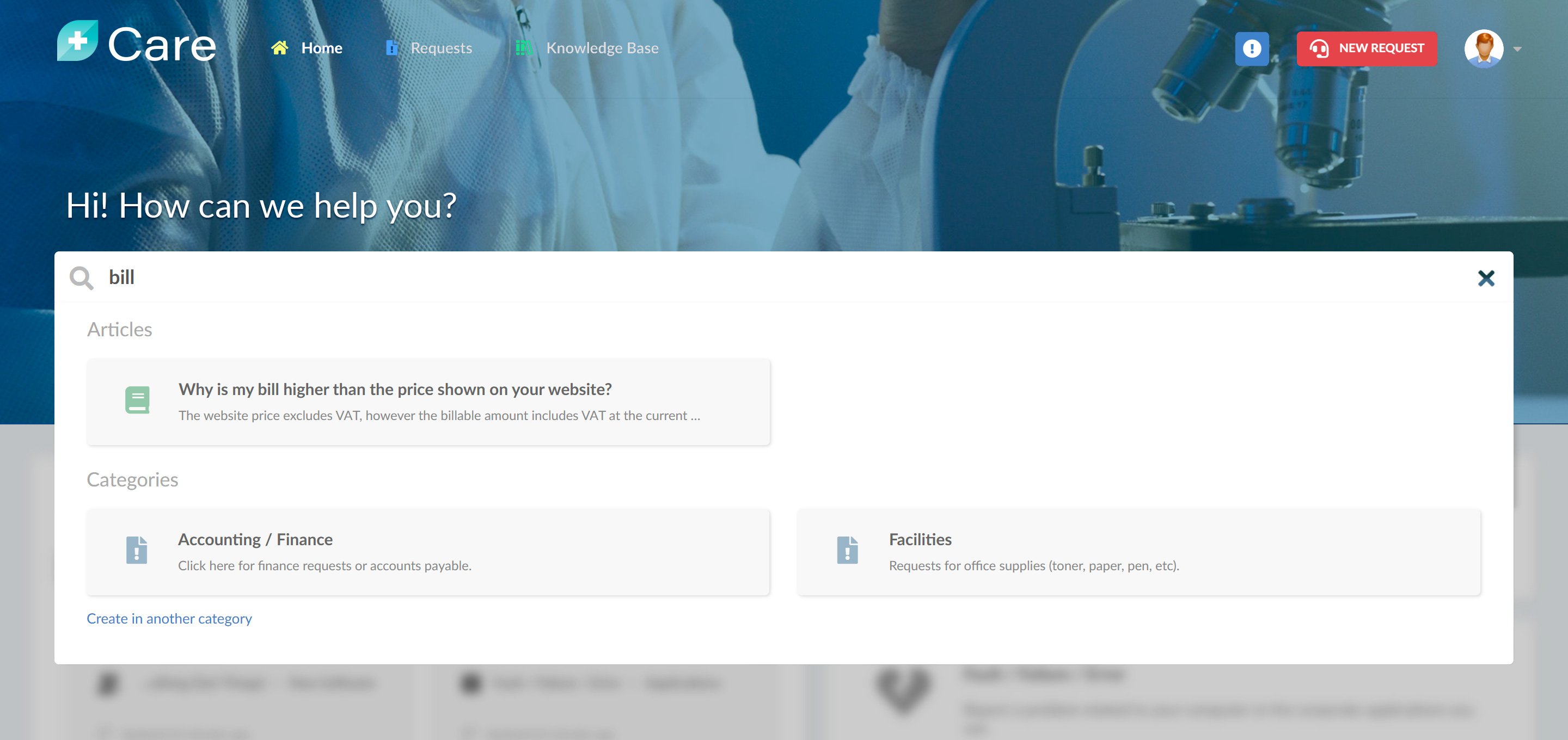 Open requests & pending actions
In the Self-Service Portal, users will see the My Pending Actions section prominently displayed… that is, if they have a pending action. If they don't, this section won't appear, creating the effect that they've effectively cleared their docket. If there's something waiting for the user's approval, or they were mentioned in a Request or article, this is where they'll find it.

Just like before, users will be able to easily view all the Requests they have created. However, from now on they can also change how they choose to view them.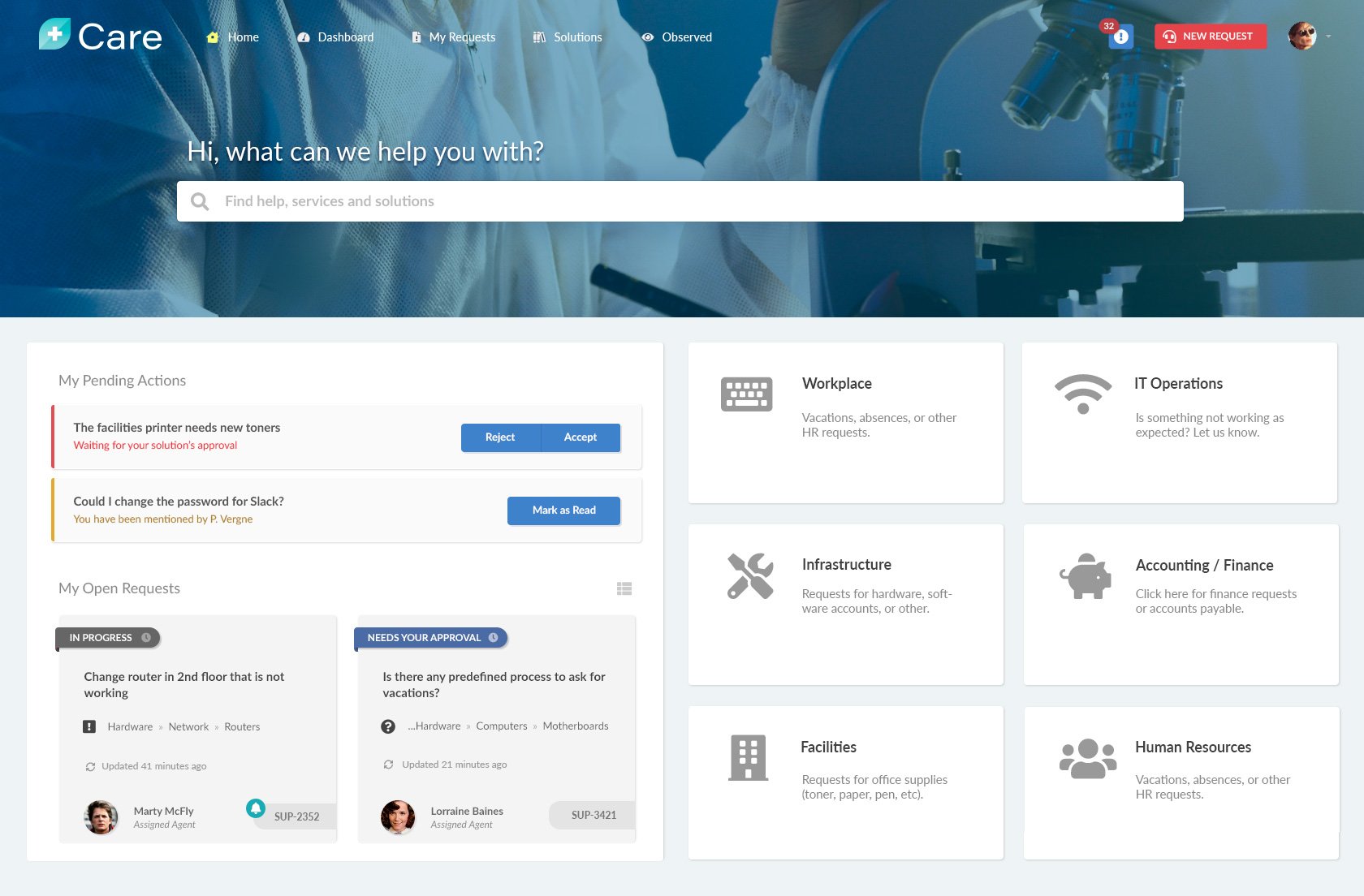 Easy request creation
The new Self-Service Portal also features several ways to create a new Request. Just like before, you can click on the Create button and delve into the Support catalog.
In addition to this and the previously mentioned search bar method, users can easily find each main category in the service catalog. Clicking on any of these icons will lead users to a guided creation process in said category.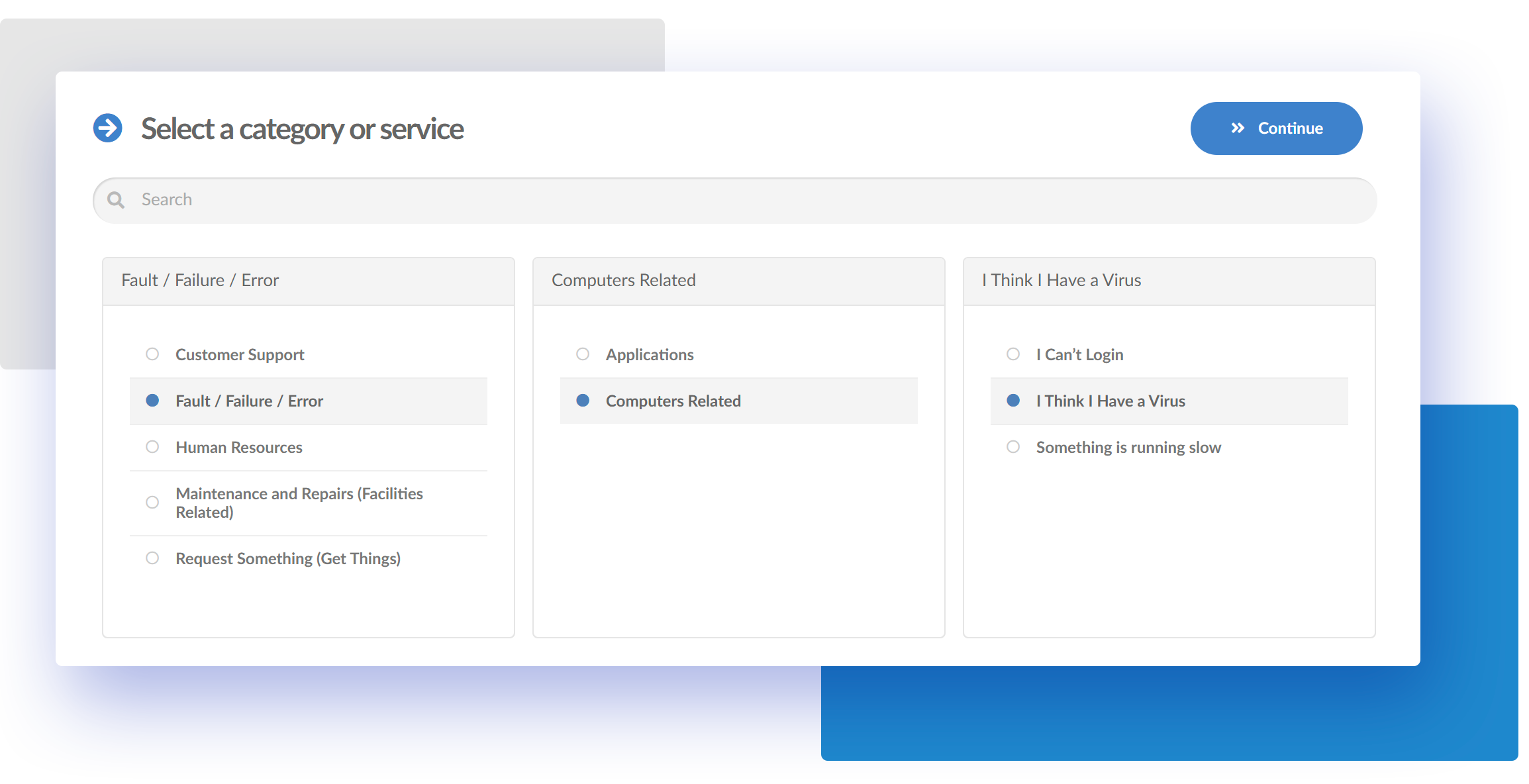 Power to the people
Service Desk 7 brings power to the people by making navigation and request creation easier, quicker, and more intuitive, therefore increasing self-resolution and avoiding bottlenecks. Your company will be able to break free of its over-reliance on inefficient methods of communication such as e-mail. Users can rest easy knowing that any request they need to make is just a click away, and the process is streamlined, efficient, and well-documented.