A while ago, I blogged about some useful improvements to our InvGate Knowledge Base, and how they'd better help your organization. If you missed it, you can read about it here. But, long story short, our UI was enhanced and several new tools were implemented, such as adding comments to articles, easier configurations, and visualizing article metrics.
Today, in continuation of these improvements I'm able to share with you a further round of upgrades to the InvGate Knowledge Base. So buckle up, because this will be exciting.
Featured articles
Featured Articles allow Service Desk Administrators to link from one to three Knowledge Base articles to a request's Category. This means that every time a user attempts to create a ticket in said Category, the Featured Article will be displayed before the Request form.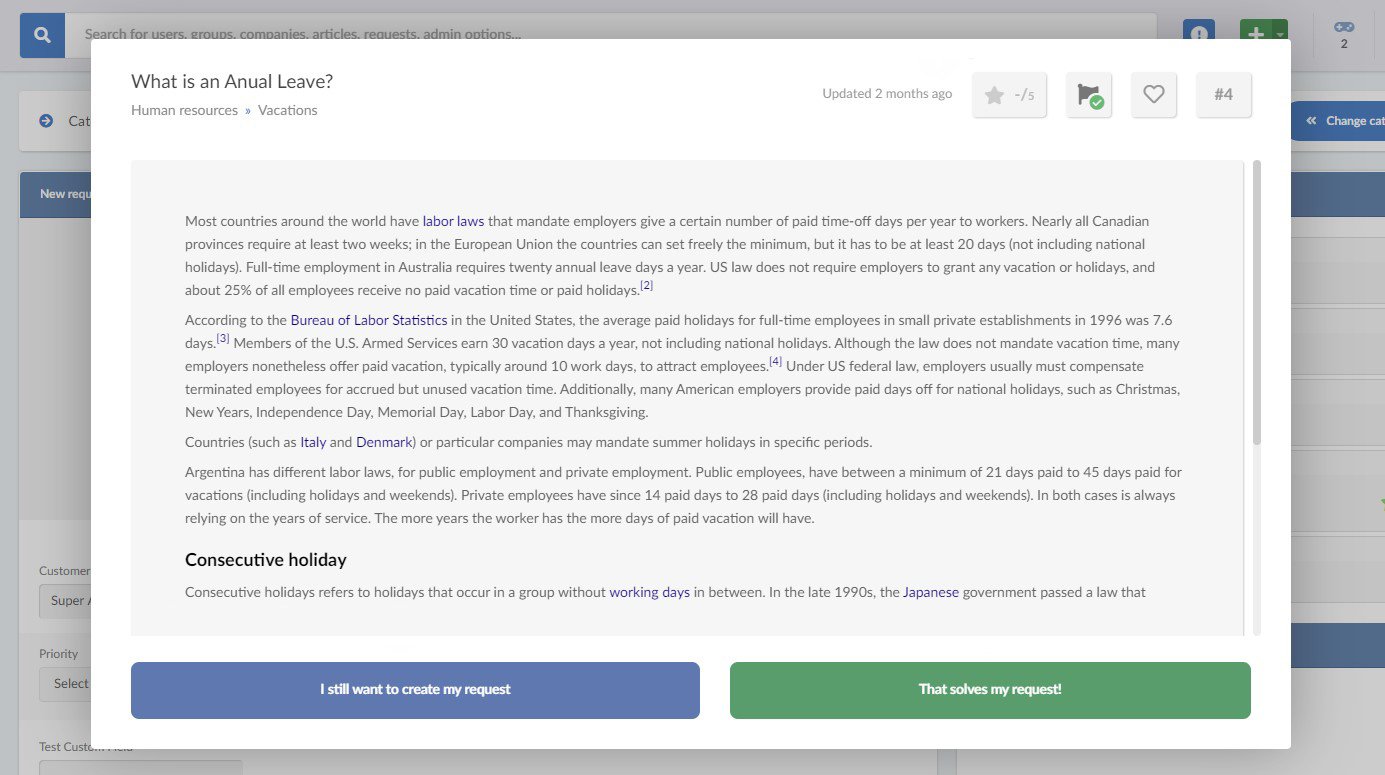 We prefer for users to be able to proactively solve their issues before they even need to raise a ticket. If the chosen article proves to be helpful, then the amount of daily and monthly incidents should be reduced, owing to the fact that users are able to find the solution to their issue via self-help (aka the knowledge base). However, if this fails to achieve its purpose, the other two chosen articles may do the trick.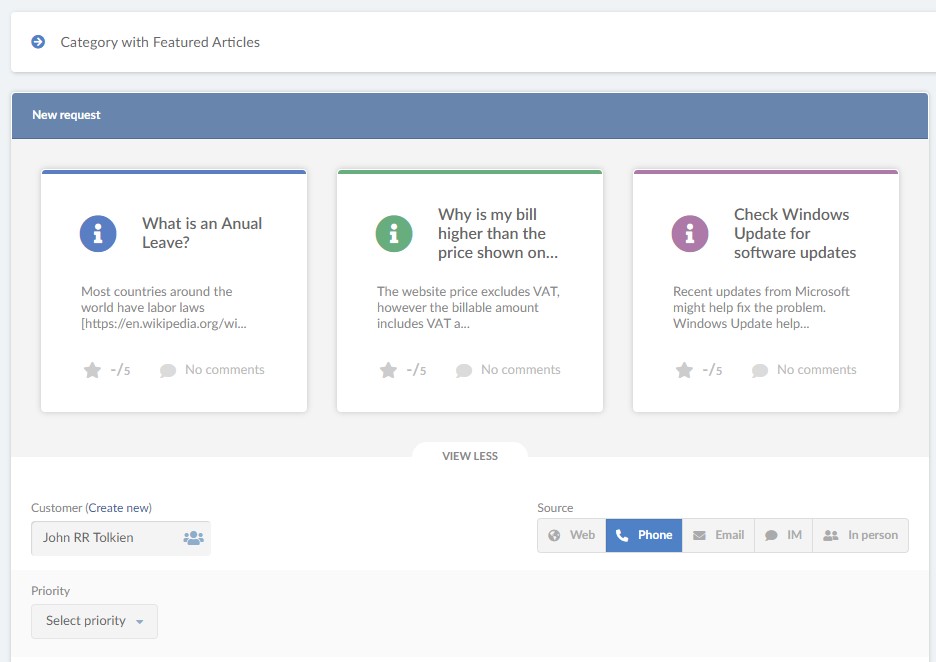 Of course, the strength of this feature depends on how you build your knowledge base – as the tool is only as good as the knowledge with which you supply it. If you feel you could benefit from improvements to your overall knowledge management approach, you may find some of these articles useful:
Targeting Articles with Categories
We strongly believe that information management is crucial for any organization. This is why we didn't stop at Featured Articles and also added the possibility to link knowledge base categories to service catalog categories, in order to suggest specific articles after a user creates a request.
The main difference with Featured Articles is that they are for a general purpose, while targeted articles are more specific to the user's needs. Consider the following example: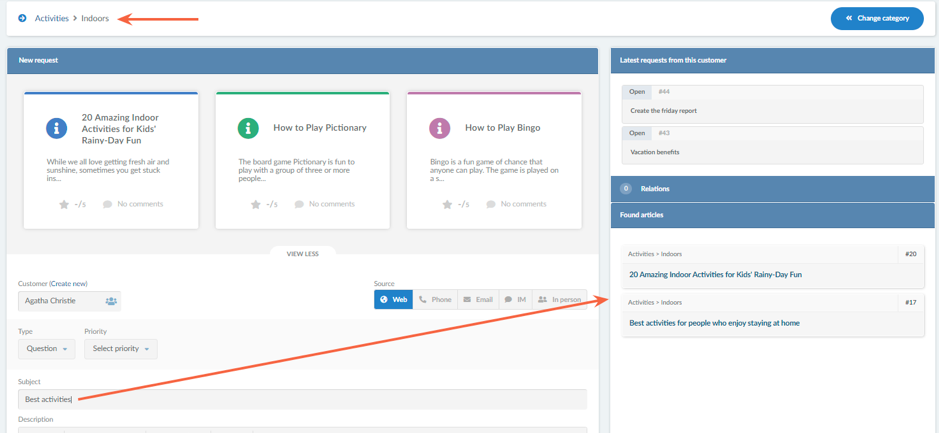 Here, we're trying to create a request in the Activities > Indoors category. As you can see, even though we have the three Featured Articles, we still need to know something that isn't included in those pieces of information. Once we start typing our issue, we will visualize some suggestions to the right; and not any suggestions, but those included in this category. If there's another article that includes the words "Best activities" but doesn't belong to Activities > Indoors, it won't be displayed here.
Best part is, even if the user creates the ticket, your help desk will also see these suggestions, so they can find quick solutions for the user issues.
Again, we're aiming to organize the Knowledge Base information and reduce the amount of tickets that users submit every day. Additionally, this will prevent your service desk from displaying articles that aren't related to the user's issues – showing only helpful and tailored information.
Seizing the Opportunity
Of course, there are several advantages of using these features. We can tell you the most straight forward ones, but everything depends on how much time you invest in your overall Knowledge Base (again, we suggest checking out some of our knowledge management best practice articles for more in depth help here), but also suggest the following:
Make sure your information reaches the user
Few things are as frustrating as writing an article and realizing it isn't reaching anyone. In time, you stop sharing information and your knowledge base becomes a prop instead of a tool. And it's a shame, really. But if you're certain that new piece of data doesn't go unnoticed, it's a win/win situation for both you and your users: you didn't work in vain, and they have a constant helping hand.
Keep your knowledge useful
If you can guarantee that an article will be read, you pay more attention to the content you create. You start being more organized and detailed, trying to offer a consistent answer with each piece of content.
I can't tell you how many times I've tried to find a solution on my own and found outdated, useless information. It's embarrassing, it's awkward, and the will to use that tool is soon gone. I don't know about you, but it's horrible to think our users may encounter that amount of disappointment.
Make things easier for your help desk
Trust us on this one. Your support team will be thrilled to see that you can work towards reducing the amount of daily requests. Now you'll pay more attention to those issues that really need solving.
One of the main purposes of the service desk is to tackle IT incidents and solve problems. Not only for your clients, but for your help desk too. Increase your team's quality of work life, and you'll get motivated, hard working people who are committed to their tasks.
We hope you enjoy the latest updates to our knowledge management capabilities. If there's anything else that you'd like to see in your knowledge base, please let us know in the comments.