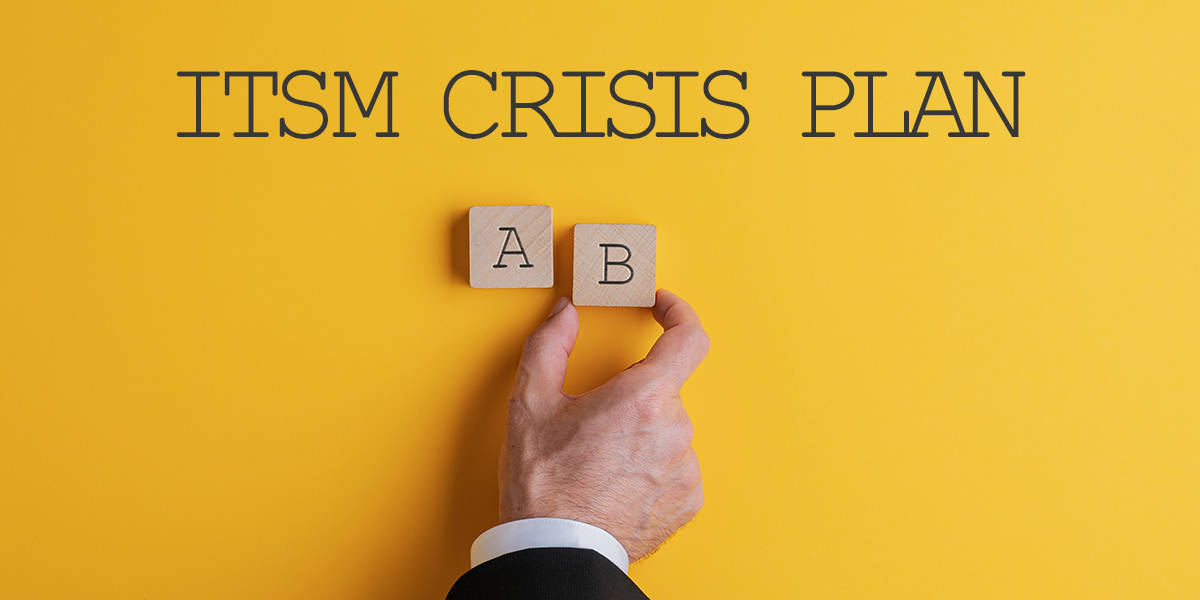 Post-COVID-19 crisis, we – as a society – have a long way to go still but, despite the pain of the first half of 2020, there was a lot to celebrate and to learn from for corporate IT organizations. Hopefully, your IT organization and IT service management (ITSM) personnel have reflected upon what were probably miserable times on a day-to-day basis to see just how many challenges they responded to. It's good to call out these successes. But it's perhaps even more important to understand the learnings and to build on them as we all go forward into what will be the "new normal" for IT service delivery and support.
To help, this blog calls out some of the key challenges faced by IT organizations, offering a key piece of learning for each.
Challenge #1: For many organizations, business continuity plans missed the mark
For some organizations, business continuity plans were something created in the distant past and left to get dusty. But even for those organizations that were following industry best practice for business continuity and disaster recovery, the pandemic "threw them a curveball" in terms of the need for social distancing and isolation. The rapid migration of employees to homeworking was unprecedented and given that business continuity plans can't cover every eventuality there's a need to build greater resilience into business operations – with IT playing a key role in changing the status quo to suit the needs of crisis-time working.
Key learning: Build-in greater resilience to operations at both a service and employee level. For example, in the use of more flexible and mobile IT solutions that leverage cloud services and non-corporate devices when needed.
Challenge #2: Maintaining ITSM operations during the crisis
During the early part of the crisis, IT support teams, in particular, were between the proverbial "rock and a hard place." They needed to help business colleagues who were now working from home while also facing the same homeworking challenges themselves. This challenge was amplified by issues across all three of people, processes, and technology. For example, some staff will have been off sick. Others might have been furloughed or even laid off. Then there were issues related to manually reliant tasks and processes failing when there was a disparate rather than centralized workforce. Plus, any IT support organization that didn't have remote support technology needed to get it and quickly.
Key learning: The traditional ways of working – for both the business and the IT organization – were turned on their head during the crisis. Being proficient at remote support – where either or both parties are working at home – is an IT capability that's here to stay, with many employees continuing to work from home post-crisis.
Challenge #3: Looking after staff wellbeing
The state of wellbeing in IT wasn't in a good place before the crisis. Now add in the extra pressures and longer days of the rapid migration of employees to homeworkers (and their many issues) – plus, the isolation effect of IT employees themselves homeworking – and there's a strong possibility that you or your staff/colleagues might have wellbeing issues. Including wellbeing issues that have yet to show themselves (or to be recognized).
Key learning: While many organizations introduced social activities such as virtual quizzes to help replace the lack of peer contact, much more is likely needed to ensure that the wellbeing of IT staff is protected as we transition into the new normal (or, heaven forbid, need to face a second wave of the pandemic). As a minimum, this involves the design and deployment of capabilities that monitor for and manage wellbeing issues. Including the skilling-up of managers to be able to deal with wellbeing issues.
Challenge #4: Delivering services and support to a remote workforce
This is where many IT organizations performed miracles in setting up and supporting their business colleagues as home workers. This wasn't simply the provision of usable devices and applications (whether corporate or personal) and their support, it was also the handholding of employees who had never worked from home before, let alone needed to set up their technology to be able to do so. There were many changes to IT support practices too. For example:
As already mentioned, IT staff working remotely
The use of new technologies to deliver support
The use of new different personal skills and new engagement techniques
The support of new technologies.
Key learning: Many remote support best practices will have surfaced during the crisis – either within your organization or the IT community as a whole. It's important to ensure that these, where appropriate, become part of business-as-usual operations and used by all. Without a formal approach to their adoption, they will at best only be used by some.
Challenge #5: Technology sourcing and provision issues
Getting the now-remote employees the technology, especially hardware, they needed during the pandemic was problematic for many organizations. Especially as certain points within the supply chain. For example:
Suppliers ceasing trading, either temporarily or permanently
Limited stock levels from the suppliers that were still functioning
Receiving the technology
Setting up the technology
Delivering the technology to end users
Ensuring that the technology is functioning as needed once with the employees.
Plus, the demands of business units that were now facing the need for the rapid digital transformation of their operations only added to the technology sourcing and provision issues.
Key learning: In many ways, this is again about flexibility and resilience. The use and support of personal devices was an obvious workaround for the crisis (including the use of cloud-delivered services). It probably also provided a better employee experience, including higher levels of employee productivity (whether the perception or reality). For many organizations, there's no turning back, and quite rightly so if employees can be more productive without compromising security and safety. So, take what worked during lockdown and factor this into your corporate IT operating model.
Challenge #6: Preparing for the reopening of workplaces
Organizations reached, or will reach, a point in time when the IT organization needs to help with both preparing and managing employees for their return to newly reopened workplaces. There's so much to say here that we'll be covering it in a separate blog. We hope that you'll return to read that too.
So, that's six challenges and learnings from us. What other challenges and learning for the "new normal" would you add to this list? Please let us know in the comments.