If you've been using a Service Desk, I'm pretty sure you're well aware of what a Knowledge Base is and all the great benefits it provides. If you're not, then you're missing out on one of the greatest tools available for your company – a tool which is especially helpful and important in light of the COVID-19 crisis.
Knowledge Bases are especially important when it comes to problem solving. Once something has been written down in a useful and comprehensive article, the information immediately becomes available for everyone to consult at any time.
Given the heightened need for knowledge as global workforces adjust to lockdowns and working from home amid the current pandemic, we decided that the InvGate Knowledge Base could benefit from a few 'tweaks'. While it was already working effectively for customers responding to the crisis, we felt there were improvements that could be made to help even further.
Meet your New Knowledge Base
#1 Comment
So, allow me to introduce you to the main new feature that has been added: the ability to add comments to articles.
It may sound simpler than what it is, but nobody should ever underestimate the power of creating a sense of community in any platform. If users believe that an article isn't clear enough, they can raise their voices quickly and effectively. If there's any suggestion, it can be made immediately. If people are amazed by how detailed and useful an article is, they'll be able to express that opinion right away, and leave their warmest thanks.
Adding, editing, and deleting comments may seem a lot like a blog, and, in a way, it is. This is a feature that creates a constant conversation between users, agents, and administrators.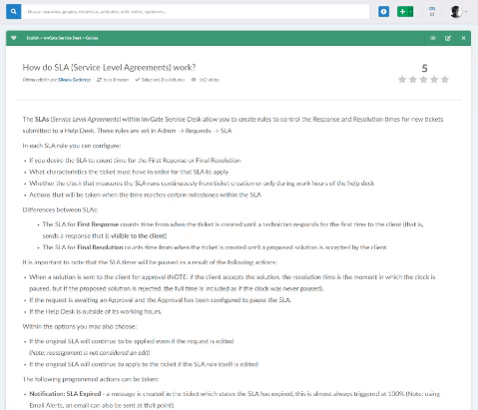 #2 Followers and Notifications
We've made sure that highlighting your interest in one article is simple and more efficient. In addition to the existing Add to favorites button ーwhich is now more visibleー InvGate Service Desk now has a Follow button, which allows you to track the article activity.
If you're a follower, everytime someone makes a comment, you'll receive an email to the inbox you've configured right away, so you'll never miss out on any new information.
As an admin, you'll notice that you can toggle off the email notification option, but it's active by default. Like most with all our service desk tools, we've designed it so you can configure it as it suits you best.
#3 History
We're aware that writers and editors need to track any changes made to the Knowledge Base articles, not only comments.
As such, all modifications are now shown in a chronological order, making sure the oldest changes are shown on top, just like a changelog. Additionally, you'll be able to filter comments, so you can better manage the article.
#4 Metrics
This feature shows you how your article has performed, how many times it was proposed to solve an issue, how many issues it actually solved, how many times it was attached to a request, and much more!
For administrators and editors, this tool will allow them to understand which are the most effective and relevant articles. Likewise, they'll be able to track which ones are not as useful as they should be, and act upon this.
Working one article at a time
As you explore the updated Knowledge Base you'll find it more and more useful. By setting visibility rules and configuring editing permissions, you'll be able to keep everything organized and under control. You and your support teams will be able to solve issues faster, while getting invaluable feedback from your customers in the process.
Maybe you're wondering what happens when you get negative or out-of-place comments? We've prepared for this too: you can moderate every comment made on each article by deleting those that are outdated, mistaken, or simply don't belong there.
Sharing solutions and articles of common interest is crucial for any company that offers support services. Knowledge doesn't belong to one person and one person only. It's collective, and as such, it must be built and developed by everyone. Now, with these updates, you can make sure it will.