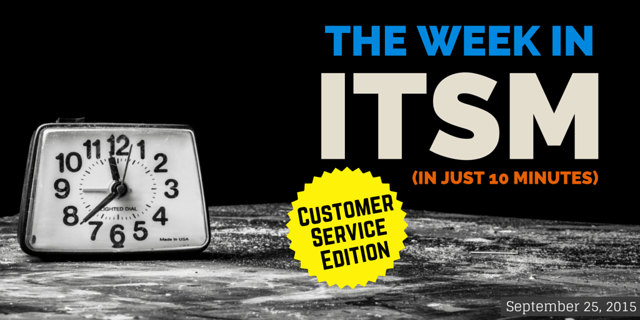 National Customer Service Week 2015
For those of you that don't already know, we're fast approaching CSWeek 2015 which takes place October 5th through October 9th.
With so many of our clients using our technology to support their own customers, we pay special attention to these types of events. If you're new to CSWeek and you aren't sure where to start, here's a list of ideas that might help. Also, our friends at HDI posted a great blog article earlier this week with some other ingenious ideas.
As the festivities kick off remember that while this is a great time to remind customers about your commitment to them, it's also a perfect opportunity to recognize the wonderful work that your team does on a daily basis. We've started a blog series on building your ITSM Dream Team that gives pointers on creating an atmosphere of success. Have a read and let us know what you think!
But we don't do Customer Service!
Think again. According to the experts, IT plays a critical role customer service role, and this will only intensify over time. Here are a couple of opinions on the topic:
"Business units and end users are no longer willing to settle for what they are given" says Roy Atkinson in Comsumerization and IT
"No matter how far 'removed' a job might seem from a customer or user, it is still part of their experience" says Michael Keeling in Service Management and Me (and you too!)
Fresh From the Blogosphere
Here are a few other recent finds in the Customer Service sphere that interest you:
(via Kate Nesser)
4 Steps To Avoid 'Analysis Paralysis' and Improve Customer Experience
(via Craig Borowski)
7 Ways Social Media Can Improve Customer Satisfaction
(via Jennifer Lonoff Schiff)
Who To Follow
Here are just a few of the interesting people in Customer that we came across this week:
"If we consistently exceed the expectations of employees, they will consistently exceed the expectations of our customers."
via Shep Hyken
"Make Customer Engagement Easy at Every Contact"
via Lisa Collins
"Companies who think of customer service more as a mind-set than a separate department have an advantage."
via Ted Rubin
Season Change Is Right Around The Corner
As the calendar flips into October, it's time to start getting ready for Halloween and then *gasp* Thanksgiving! The fall is one of my favorite times of year as it brings on cool nights and the thought of spending more time with family. If the changing season has caught you off guard, consider this quote from one of our great contemporary authors:
"Autumn seemed to arrive suddenly that year. The morning of the first September was crisp and golden as an apple."
― J.K. Rowling, Harry Potter and the Deathly Hallows
Have a Great Weekend!