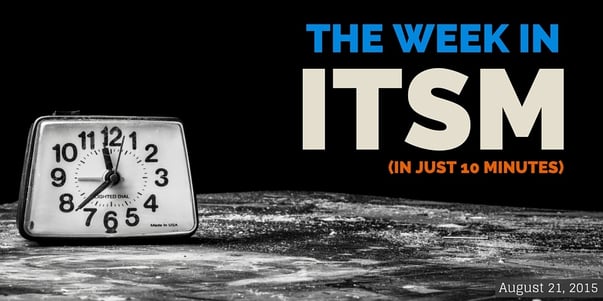 Happening This Week
This week in Sydney Australia, some of the greatest minds in our industry are descending on the IT Service Management Forums 2015 conference. We've been keeping up with the event remotely thanks to social media and it looks like there are some great discussions taking place! Today's post will highlight some of the moments and people that caught our attention.
The Moments
Whether you're on Twitter, or not, make sure to follow the entire conversation here.
Here are just a few of our favorite moments so far:
CIO Pulse Does it Gangam Style
For those of you that enjoyed our silly Gangnam Style video for #smconfau, here it is: http://t.co/0mFhlPErFt

— Dave O'Reardon (@Silversix_Dave) August 20, 2015
Work Hard - Play Harder
In true Australian style the entire conference has adjourned to the bar #smconfau pic.twitter.com/xVEsQVL5sA — Kirstie Magowan (@KirstieMagowan) August 20, 2015
Taking Home the Big One
Congratulations @DaveFavelle for Australian Service Management Champion of the Year #smconfau #itsm pic.twitter.com/InDkq6cchT

— Rob England (@theitskeptic) August 20, 2015
The People
To help you keep track of everyone involved in the social chatter around the event, check out this twitter list. Make sure you're subscribed and let us know if we've missed anyone! Here are a couple of people and quotes, in particular, that jumped out at us.
"#devOps is fundamentally different - it is a massive end to end re-engineering shift in IT"
via Nicole Forsgren
"To innovate: one requires #liberty, #freedom, #space, #experiments are essential"
via Suresh GP
"The most costly phrase in the company - We have always done it this way."
Fly Friday!
For those that didn't get to enjoy all of the fun and frivolity in person, keep your head up! Here are some words of wisdom to take into next week:
"The winner asks, "May I help?" The loser asks, "Do you expect me to do that?"
Enjoy your Weekend!