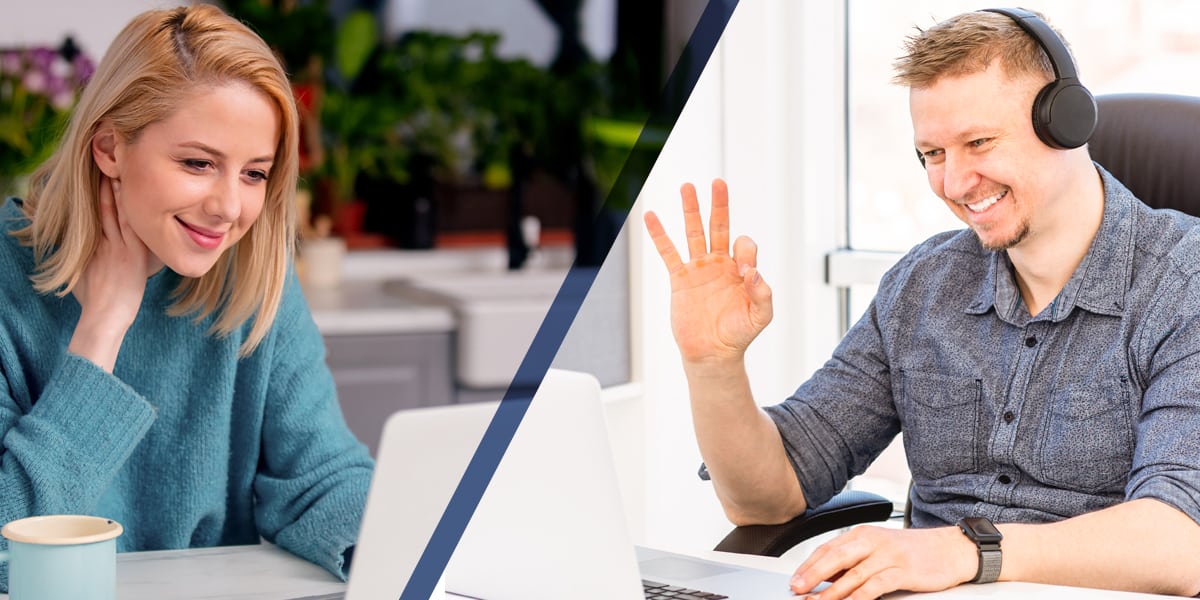 The COVID-19 crisis continues to change the world in which we live and work, and the pressure is on for IT service desks to keep up with the many IT support requirements of employees who have suddenly found themselves working from home. Social distancing and remote working are the new normal and IT service desks need to maintain business services while delivering the best possible support experience to employees via multiple channels including phone, app or web browser, and email. All of which might result in the need for "hands-on" IT support. Or, now in these days of home working, the need for remote support.
To help your IT service desk to use remote support capabilities to its best advantage, this blog offers five tips for providing remote support efficiently and effectively while remaining people-focused.
Tip #1: Get used to your remote support software
The first step is to realize that it's very different providing support through remote support software versus providing it in person. That it's more complicated than simply knowing how to use the software and replicating in-person support.
To start, launching applications, entering admin credentials, and even logging in or restarting can be more challenging when you're not sitting in front of the device in question. So, make sure that everyone on your service desk is comfortable using whatever remote support tool you've chosen and get your analysts to practice with their colleagues during quiet times (although there's probably not an IT service desk out there with time to spare at the moment). The bottom line is to ensure that everyone can use it effectively such that the support channel doesn't interfere with their ability to get employees productive again as quickly as possible.
Tip

#2: Get comfortable talking end users through interacting with your remote software

IT service desks around the globe are likely all having conversations like these at the moment:
"Click on Quick Assist (other remote support tools are available). No, not Quick Setup Wizard, Quick Assist. No, not Skype. OK, let's try this again. Please type Start and then Quick Assist. The button that looks like a windows flag on the bottom left-hand corner of your screen."
"I'm just going to need your computer name so I can connect to you. Can you please check your asset tag for me? You don't have one? No worries – we can do it the old-fashioned way. Can you open a command prompt, please? Click Start, Run, then type in CMD. No, not CND, CMD – Charlie, Mike, Delta. No, your computer isn't broken – don't worry, that's what a command prompt looks like. It's all good, Now, all I need you to do is type in hostname and hit return."
"Can you click on the Accept button, please? Yes, I know we tell you not to accept connections from suspicious accounts but I'm from the IT service desk. You called me, remember? Hello?"
The golden rule is – always make it easy for people to be able to get the help they need. So, make it straightforward to launch the remote support software. In an ideal world, triggering the remote support session securely would be done without any end-user intervention but sometimes that's not possible.
So, in such cases, make it easier by emailing a link, placing a desktop shortcut on everyone's device, or even writing a post on the IT intranet with step-by-step instructions on how to accept remote support.
Tip #3: Make your ITSM tool do some of the heavy lifting
Ensure that your ITSM tool's incident and request forms are efficient because if it takes a few minutes or more for a service desk analyst to log a ticket, then chances are that not everything is getting logged. So, make your forms as easy to use as possible to save time and to ensure that the focus is on the end user rather than getting a cumbersome form to accept your information (including that something, anything is input to that mandatory field that serves no real purpose).
Some opportunities here are:
Linking the ITSM tool to the users' accounts so that the person's name and contact details are already pre-populated.
Keeping category menus simple. Instead of having to endlessly scroll through a long list of categories, make the fields searchable or able to recognize keywords such that logging the ticket against the right service is as straightforward as possible.
Use models to template your most frequently occurring incidents and service requests such that their details are easier to capture.
Configure your incident form so that technicians can log an incident by service and can either resolve it on the same screen (in the event of a first-time fix) or escalate it to the next line of support.
If your ITSM tool supports it, look at ways of automating ticket assignments to save time. Some examples could include automatically notifying the service desk manager if a VIP incident is logged, alerting senior management if a major incident is raised, or automatically assigning certain ticket types directly to support teams based on the affected service information.
Tip #4: Focus on the person rather than the technology
When providing remote support, sometimes it's all too easy to focus on the problem at hand or the technology in front of you rather than on the person on the other end of the phone. That person isn't just another box to be ticked or number in the queue. It's potentially someone who's vulnerable or scared and, as a minimum, it's someone who can't do the work that they need to do because of an IT issue or an unmet need.
If that person is self-isolating because of the COVID-19 crisis, then you might be the first person that they've talked to in a while. So, there's a need to invest more conversationally than you might have done with in-person support scenarios.
Practice active listening so you really understand what the person is saying. Don't try and jump in too soon and try not to make assumptions on their issue's cause. For example, sometimes that document issue is occurring because the person has lost connectivity. Or that spreadsheet might be erroring not because it's corrupt but because there's a space in a formula. So, really listen to make sure that you have all the facts.
Another way to improve remote support and the employee experience is to use the quiet time effectively. There's nothing more disconcerting than total silence when you're on a call so, if you're waiting for something to install or the device to restart, take the time to recap what you're doing, check the person's asset tag, ask if there's anything else that's bothering them tech-wise, and if nothing else ask them if they're OK. Not because the IT support staff manual says it, but because we're all human and it's a nice thing to do.
We think that if the COVID-19 crisis has taught us anything it's that people are everything and we need to look out for each other. By using how we deliver remote support to look after our people we can at least make remote working more effective if not slightly less isolating and strange.
Tip #5: Provide self-service capabilities
Just because you have remote support technology, it doesn't mean that it's the right solution for every support situation.
Instead, empower your colleagues by offering a self-service channel. Some of the most frequently occurring tickets are to do with forgotten passwords, locked accounts, or email. Password resets and account unlocks can be automated meaning that the end user can quickly get on with their day. Reduce call volumes (and by extension customer wait times) by creating a simple knowledge base or FAQ section on your service desk portal (if it doesn't). Start with the steps for making sure that the preferred email client is connected to the network and we promise that everyone's lives will get easier.
For more information on how we're responding to the COVID-19 pandemic, please see here how we're offering our service desk solutions free of charge to anyone who needs them.
What do you think of these five tips for remote support? What else would add to our list to help others? Please let us know in the comments.